Ingredients (serves 4-5)
1. Shallots -250gms or large onions-2
2. Tomatoes - 4-5 ( finely chopped)
3. Turmeric powder- 1tsp
4. Chilly powder -3tsp
5. Coriander powder -3tsp
6. Salt- 1 1\2tsp
7. Tamarind - lemon sized ball
8. Fish -300gms
9. Mustard, urad dhal -1tsp
10. Fenugreek seeds -1\2tsp
11. Oil -3tbs
12. Curry leaves -few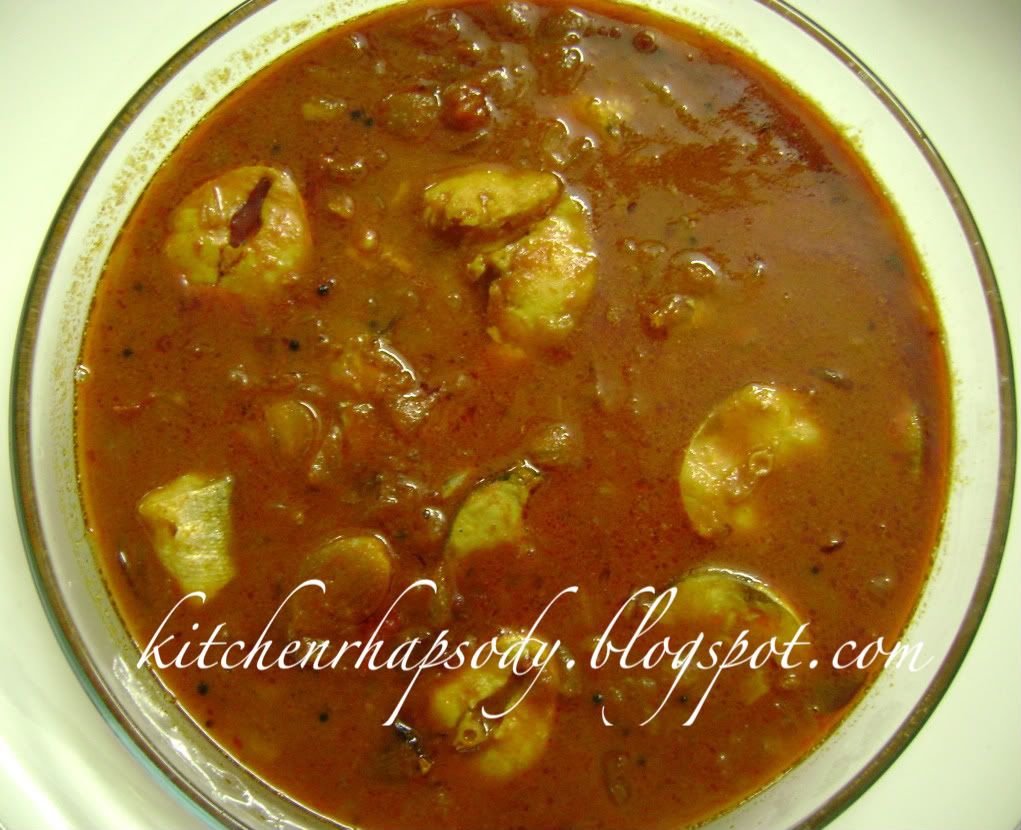 Method
1. Heat oil in a pan, add mustard, urad dhal and fenugreek seeds.
2. When the crackling of the mustard stops, add finely chopped onions, fry till they are pink and crisp.
3. Add finely chopped tomatoes and saute' till they are tender.
4. Add all the powders and salt and fry for a minute or two until the oil separates out.
5. Dissolve the tamarind paste in 200 or 250ml of water or as required for the gravy and add it to the masala and let it boil for about 7 minutes or so until the gravy thickens. A small piece of jaggery can be added at this stage to balance the taste of the gravy.
6. Add the fish( washed with little turmeric powder and little salt), cover and cook for about 7 minutes on low heat.
7. When done garnish with curry leaves and serve with rice, idly or dosa. ( fish curry tastes even better when eaten on the next day of its preparation, usually it is made in the night and served for idly the next morning).