Karuvattu kuzhambu is a traditional dish of Tamilnadu and a very popular one in gramathu samayal, particularly made in the month of Aadi while celebrating the goddess. It is a tradition to make Kelvaragu or ragi koozh, thinai maavu, murungai keerai porial and karuvattu kuzhambu on one of the days of the Aadi month and should be shared with poor and neighbours after the prayers. I remember bringing along the poor from the streets and mother pouring the koozh from large cauldrons to them and my job was to give thinai maavu and keerai. Though such traditions have faded away once we moved, as a new tradition, we never fail to receive koozh and karuvattu kuzhambu from neighbours around almost on all the four sundays of the month. Still we can see huge celebrations during this month, with serial lights settings, light music, people offering food to all in every temple and festive mood in high spirits as it also marks the onset of festivals and celebrations there after.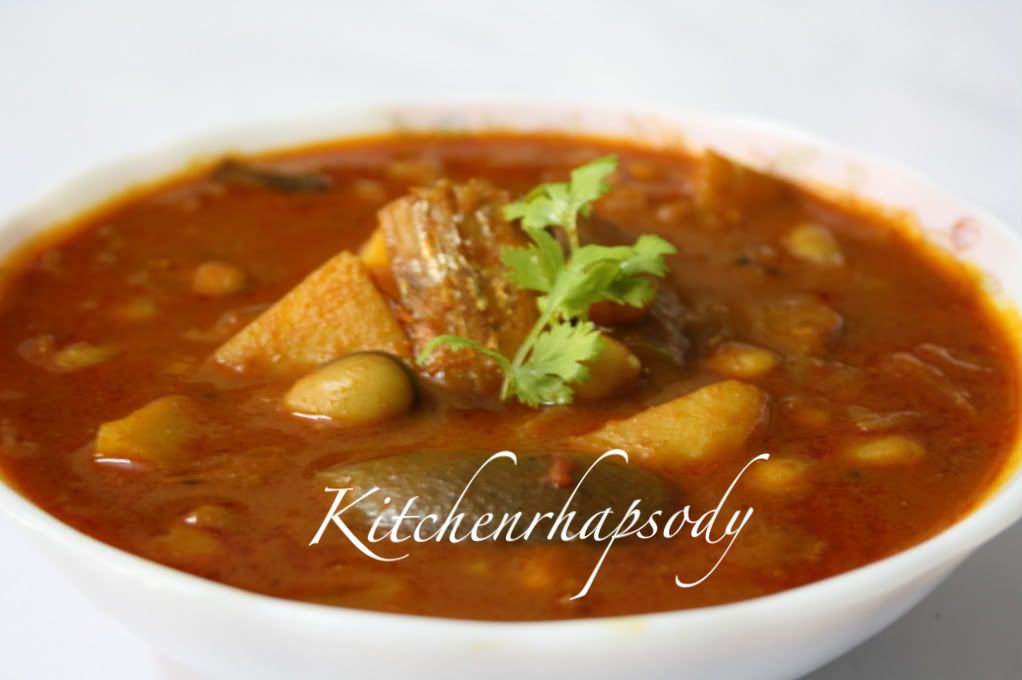 Ingredients
Mochai (field beans)-100gms.
Shallots - 20 or Onions - 2(large)
Tomatoes –3
Mustard – 1tsp
Urad dhal- 1tsp
Turmeric powder – ½ tsp
Chilly powder +coriander powder - 5tsp
Fenugreek seeds - 1/2tsp
Salt – 1 tsp
Gingely oil – 3 tbsp
Dry Fish – 5 pieces or 100gms

Brinjal – 100gms
Potatoes- 100gms
Drumstick – 1
Tamarind - lemon sized ball soaked in water
Curry leaves - few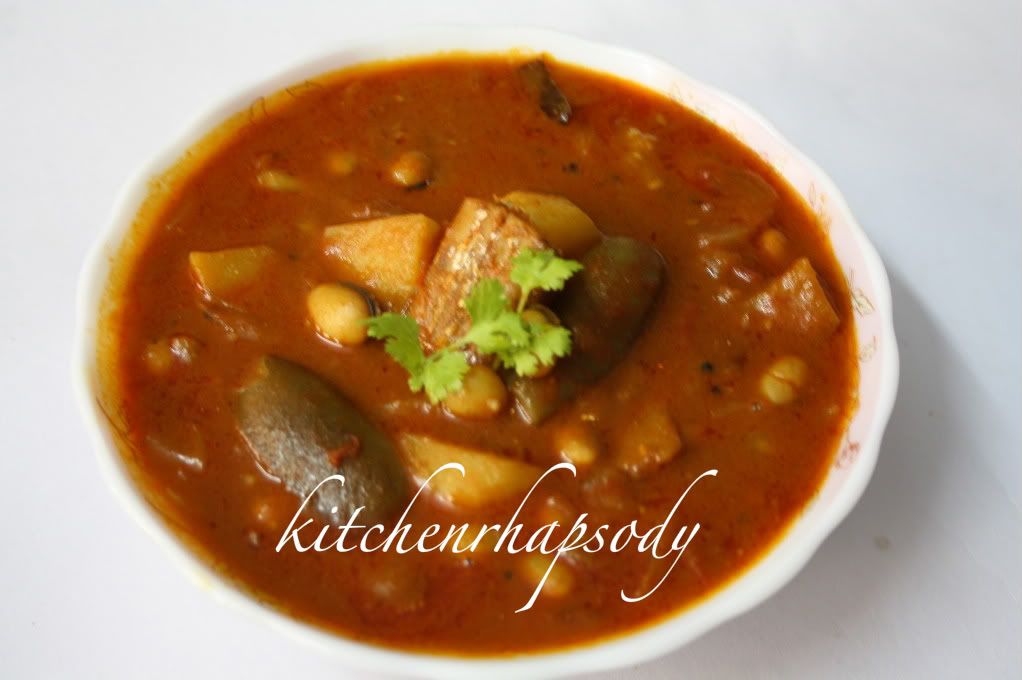 Soak dry mochai overnight and cook them with little salt or can use fresh mochai if available.
Heat oil in a pan, add mustard and the urad dhal. Add curry leaves and fenugreek seeds. When it changes colour,
Add the onions, fry till they are pink and are lightly crisp.
Add tomatoes; fry till the tomatoes are soft. The pan should be closed with a lid for the tomatoes to cook faster.
Add the turmeric powder, chilly powder, coriander powder and the salt and fry for a minute.
Add the vegetables and mix well.
Add enough water to cover the vegetables and leave it cook till they are done (cover the pan with a lid).
Add the cooked mochai seeds and the Strained tamarind water to the gravy, and also add the dry fish (which is washed in warm water) to the gravy and leave it to cook for five minutes. Cook on low heat until everything is well combined and the oil separates. Traditionally it is served as it is along with Ragi kali.
Coconut paste can be added for a different taste which is good with white rice or chappathi. Add 2tbsp of coconut paste to the gravy (The gravy can be served without coconut also) and let it boil for a few minutes. When done, serve with white rice, dosai or chappati. I have not added coconut in the picture.