Ingredients:
1.Potatoes- 1/2kg
2.Oil - 3tbs
3.Mustard seeds - 1tsp
4.Urad dhal - 1/2tsp
5.Sambhar powder-2tsp
or
Red chilly powder and coriander powder -each 1tsp
6.Turmeric powder-1/2tsp
7.salt- 1tsp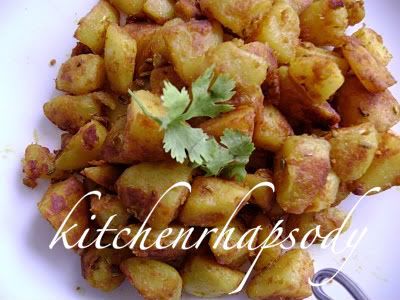 Method
1.Heat oil in a pan, add mustard seeds and urad dhal.
2. Reduce the heat add the powders, stir it a little and add previously cooked and diced potatoes immediately (or else the powders will burn).
3.Stir the potatoes until they are coated well with the masala, add salt and leave on low heat for five to seven minutes or until it is roasted. When done remove and garnish with coriander leaves.
How to cook potatoes in a cooker
Cut each washed potatoes to half and take it in a pressure cooker. Add water just enough to cover the potatoes. Bring it to full pressure on high heat, reduce the heat, cook for 8 minutes. Allow it to cool naturally. Peal the skin from the cooked potatoes when it is cool and cut into cubes and add to the recipe.