Ingredients
1. Basmati rice-1 1/2 cups
2. Carrot, capsicum-200gms (thinly sliced)
3. Cabbage-50gms
4. Onions-2
6. Ghee-1tsp
7. Soy sauce- 1 1/2 tsp
8. Tomato sauce -1tsp
9. Eggs -2
10.White or black pepper-1-2tsp
11. Oil-3tbsp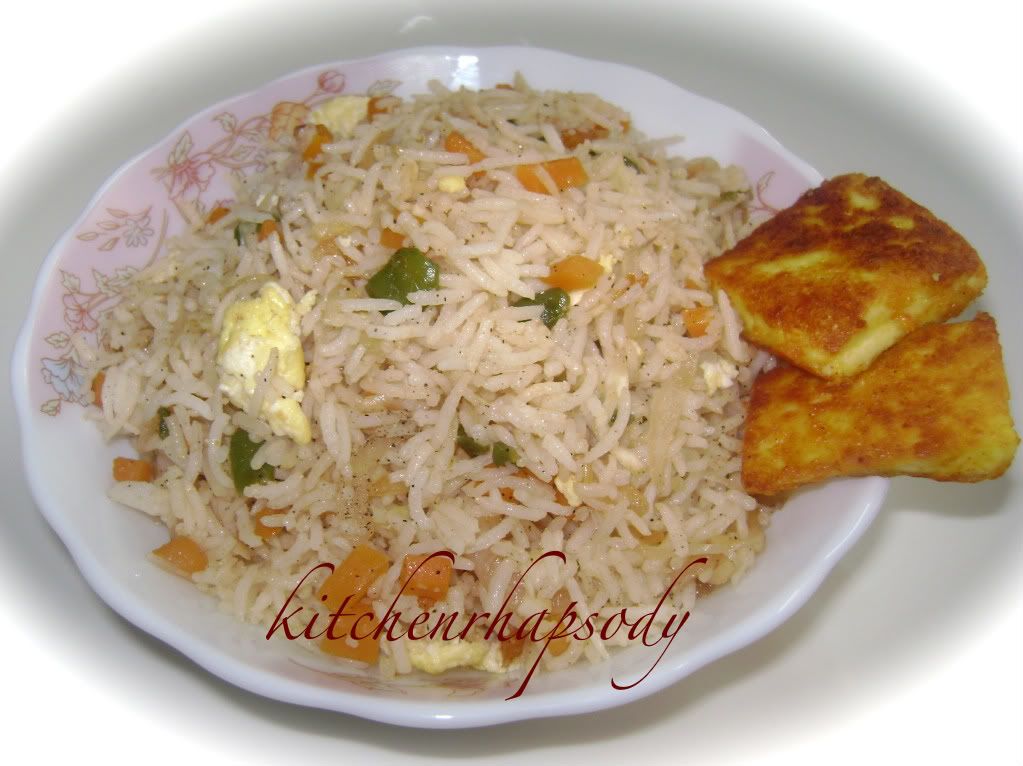 Method
1.Cook the rice, spread on a wide plate and let it cool. ( To cook basmati rice, boil 10 cups of water with 1/2tsp of oil, add the rice, reduce the flame and approxiamtely after 7minutes, strain the rice. The rice should not be over cooked.
2. Heat oil, fry carrot, capsicum one by one, add ginger garlic paste, add the ghee, fry the thinly sliced onions, when it turns pink add the cabbage, toss it for a minute, add both the sauce, keep stirring it for 2 minutes. Add pepper powder,salt, mix and remove from fire. Mix this with the cooked rice along with the eggs.
3. Heat a 2tsp of oil in pan, break the eggs into it, add little salt, stir till it is soft and cooked. Mix it with the rice.
4.Garnish with spring onions.
5.Served along with paneer fry. Coat diced paneers in a tsp of cornflour, salt, chilly powder, turmeric powder, coriander powder and shallow fry in oil.