Ingredients
1.Tuar dhal-1/2cup
2.Bengal gram -1/2cup
3.Red chilly-1
4.Onion-1
5.Coriander leaves-1tbsp
6.Fennel -1tsp
7.Coconut-1 1/2tbsp
8.Salt
9.Curry leaves-few
Method
1.Wash the dhals, soak them for an hour or two and grind them with the chilly, to a thick paste.
2.To this add chopped onion, coriander leaves, coconut, fennel salt curry leaves, mix well and make balls.
3. Steam cook these balls for 15 minutes in Idly cooker.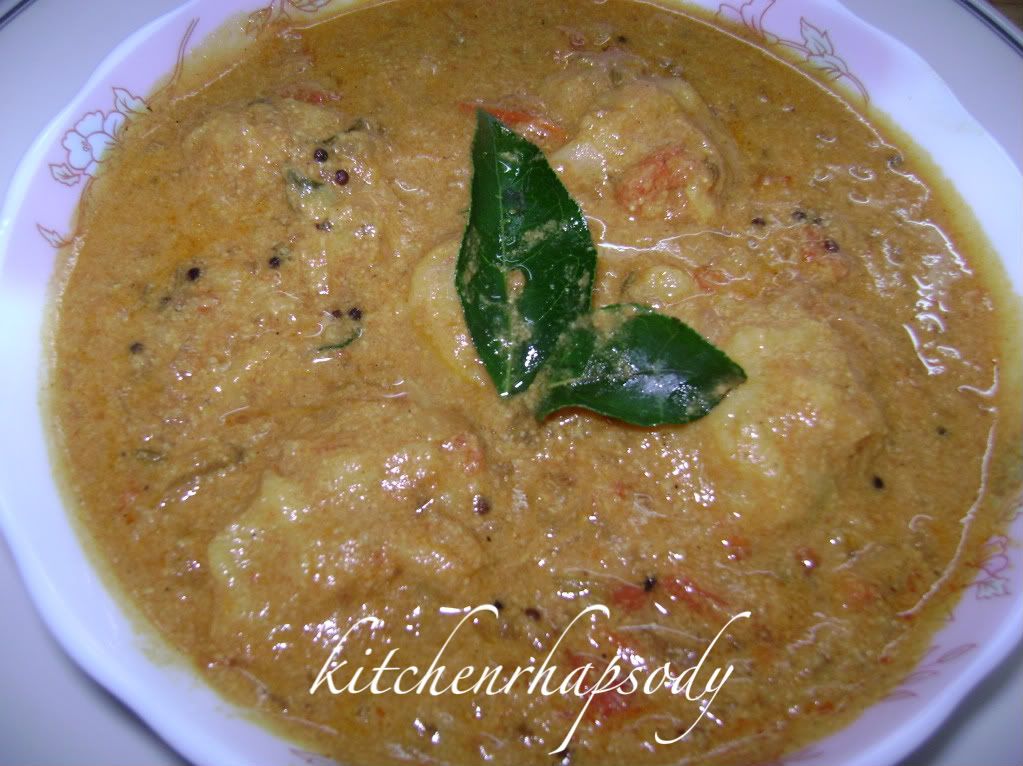 For the gravy
1.Onion-2
2.Tomato -2
3.Tamarind paste-2tsp
4.Chilly powder+coriander powder-3tsp
5.Turmeric powder-1/2tsp
6.Coconut paste-3tbsp
or
Poppy seeds -1 1/2tbsp +Roasted gram-1tsp
7.Coriander leaves
8. Fennel-1tsp
9.Mustard-1tsp
10.Fenugreek seeds-1/2tsp
Method
1.Heat oil and throw in fennel, mustard, fenugreek and add chopped onions, stir for 2 minutes, add chopped tomatoes and stir till it is cooked. Add chilly+coriander powder, turmeric powder, tamarind paste, salt and add some water for the gravy. Let it boil for 2 minutes, then add the ground paste of coconut or poppy seeds and roasted gram. Stir well and after five minutes drop in the cooked balls, reduce the heat, after a couple of minutes remove from heat,garnish with coriander leaves and curry leaves and serve with rice or chappathi or dosai.