Ingredients
1.Paneer-200gms
2.Onion-2
3.Tomato-3
4.Ginger garlic paste-1tsp
5.Turmeric powder-1/4tsp
6.Chilly+coriander powder-2tbsp
7.Fresh curd-100ml
8.Cashew-5
9.Poppy seeds-1 1/2tbsp
10.Cumin powder-1/2tsp
11.Coriander leaves-2tsp
12.Cinnamon,cloves, cardamom- 2 each
13.Oil-2tbsp
14.Sugar-1tsp
15.Fresh cream-2tbsp(optional)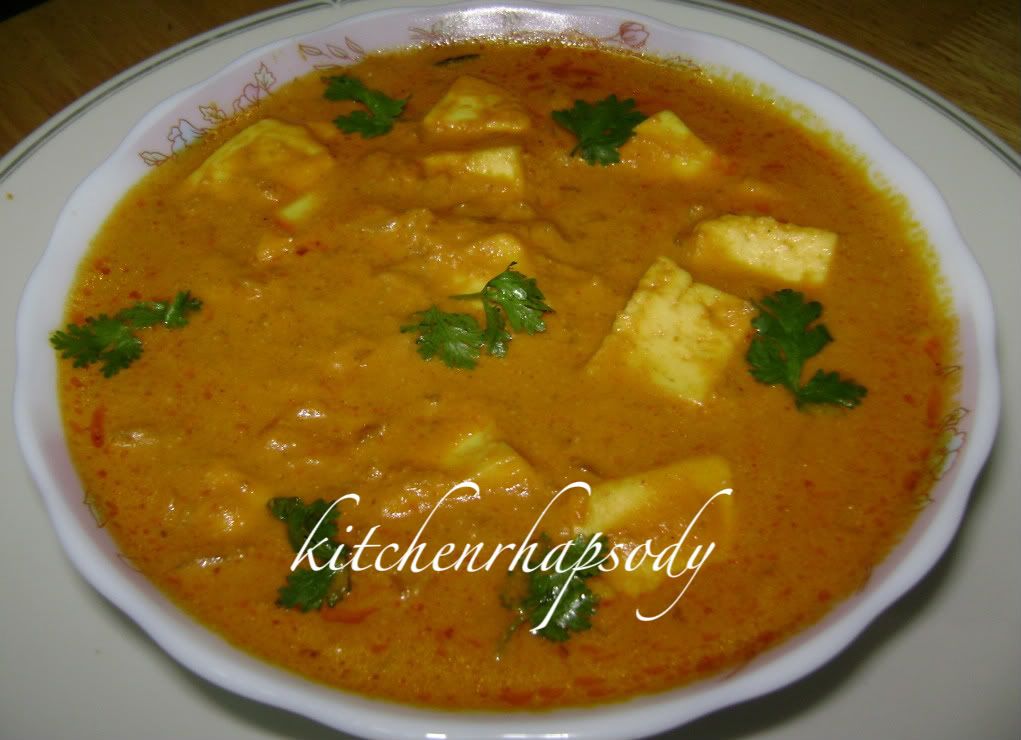 Method
1.Combine 3 to 11 in a blender and make a fine paste.
2. Heat oil in a pan, add sugar and leave it undisturbed, until it caramelises. Add the whole spices, finely chopped onions, saute for a while until it changes colour, add the ground mixture.
3.Once the gravy begins to boil, add paneer cut into cubes, salt and reduce the heat and cook for 5 to 10 minutes or until it is done. Serve with a dollop of fresh cream, garnished with coriander leaves.
Suggestion
1.Use butter instead of oil and add kasuri methi(dry fenugreek leaves).
2.This is the simplest version of making Paneer butter masala, which i came out with . After eating this in a restaurant i tried it, just by guessing the ingredients from the taste of it and it turned out pretty good. I did not use butter or kasuri methi but that is just a suggestion to enhance the flavour.