Ingredients
1.Black-eyed peas (karamani) -150gms
2.Onion-1
3.Tomatoes-2
4.Potato-2
5.Drumstick-1
6.Brinjal-4
7.Tamarind-1tbsp
8.Chilly+coriander powder-3tsp
9.Turmeric powder-1/4tsp
10.Oil-2tbsp
11.Fenugreek seeds-1/4tsp
12.Mustard+urad dhal-1tsp
13.Curry leaves-few
14.Salt
15.Coconut Paste-3tbsp(optional)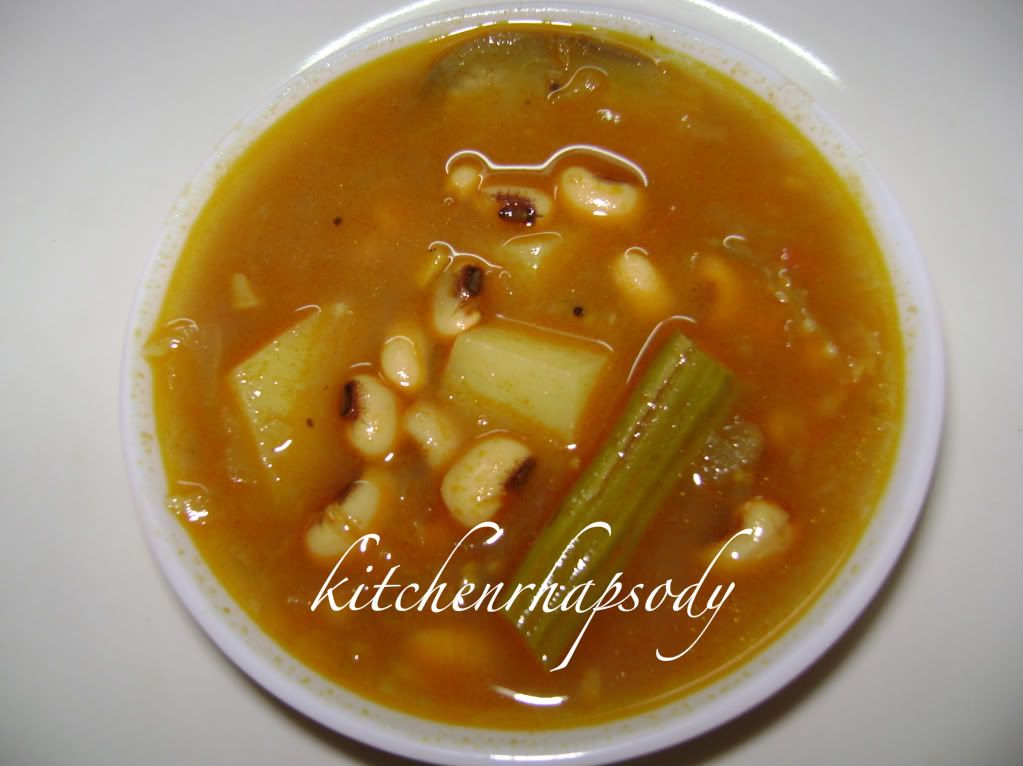 Method
1.Cook, washed and soaked black-eyed peas in a pressure cooker (It takes only five minutes).
2.Heat oil in a pan, add mustard+urad dhal and curry leaves. When it begins to splutter add fenugreek seeds.
3.Add sliced onion when the colour of the fenugreek seeds changes. Saute the onions till they turn pink, add chopped tomatoes.
4.Once the tomatoes are cooked, add the vegetables, chilly+coriander powder, turmeric powder,salt, stir well and add 1cup of water.
5.Bring it to a boil, cover the pan and leave it to cook on medium heat. When the vegetables are 3/4cooked add the cooked black-eyed peas and the tamarind paste(diluted in water).
6.Cover the pan and cook for a few more minutes, until all the vegetables are cooked completely.
7.If desired, add coconut paste and bring it to a boil and wait till everything is well combined. Serve with rice. (Originally my grandmother used to make this gravy, with black eyed peas and plantains(vazhaikkai), but i like this combination of vegetables )