Generally Egg curries are made using boiled eggs, but my grandmother and mother have always made by breaking the eggs in the gravy and it gives a different taste and flavour to the kurma . This recipe is a favourite among my folks and it is very easy and quick to make.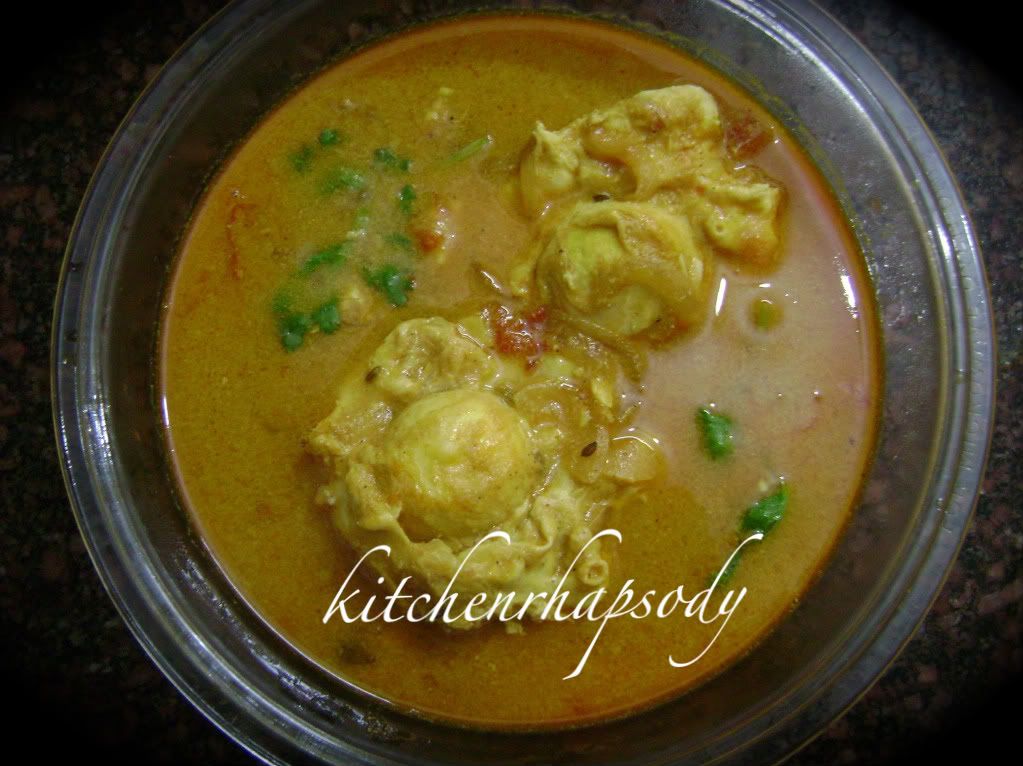 Ingredients
1.Eggs - 3
2.Onion - 2
3.Tomato - 2
4.Ginger garlic paste - 1tsp
5.Chilly powder - 2tsp
6.Coriander powder - 2tsp
7.Turmeric powder -1/4tsp
8.Coconut paste - 2tbsp
9.Cardamom, cloves and cinnamon - each 2
10.Oil - 2tbsp
11.Curry leaves - few
12.Fennel seeds -1/2tsp
12.Salt and coriander leaves
Method
1.Heat oil in a pan, throw in cardamom, cloves, fennel seeds and cinnamon, add sliced onions and saute' for two minutes.
2.Add finely chopped tomatoes and stir till the tomatoes becomes soft and mashed well.
3.Add ginger garlic paste, stir, add turmeric powder, chilly powder, coriander powder and the salt.
4.Stir for a few seconds and add water, bring to boil, add coconut paste and let it boil for 2 minutes on medium heat.
5.Now reduce the heat completely, break in the eggs one by one, giving enough space between the eggs, so that they don't touch each other. Cover the pan and continue to cook on low heat for five minutes. After 5 minutes, with a flat ladle, carefully flip over the eggs one by one, for the top side to cook, which only takes a minute or two. When done garnish with coriander leaves and serve with chapati or rice.