Ingredients
1.Soya chunks -10
2.Potato -2
3.Onion -1
4.Cashew -10
5.Poppy seeds - 1tsp
6.Roasted gram - 3tbsp
7.Cardamom -2
8.Cinnamon - a tiny piece
9.Bread crumbs - 2tbsp + 1cup
10.Thyme -1tsp
11.Coriander leaves - 2tsp
12.Oil for frying
13.Salt.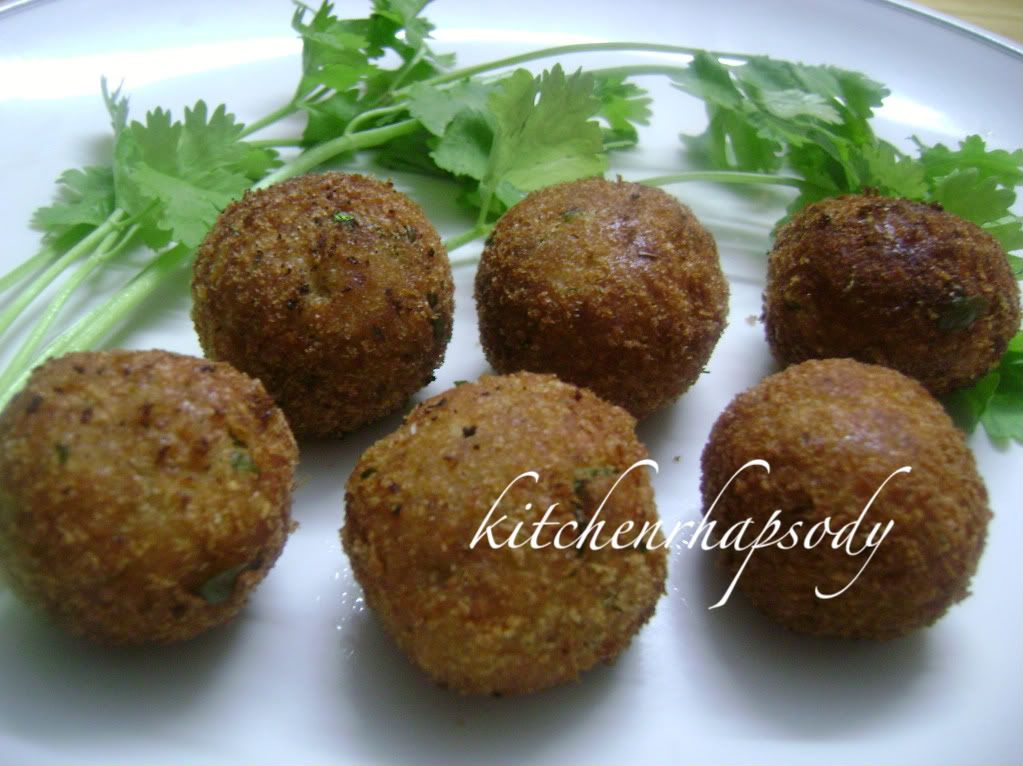 Method
1. Soak soya chunks in boiling water for 10 to 15 minutes, drain and rinse in cold water. Squeeze out water from the soya chunks and blend to a paste.
2. Cook potatoes and mash well. ( can use a blender)
3.Grind onion to a paste.
4. Combine cashew, poppy seeds, roasted gram, cardamom, cinnamon and powder them.
5. In a bowl mix, ground soya, mashed potatoes, onion paste, spice powder, 2 tbsp of bread crumbs, salt and finely chopped coriander leaves. ( can add finely chopped green chilly or pepper powder, I have not used them because I prefer it this way).
6. Mix dry thyme to the rest of the bread crumbs and keep it ready for coating.
7. Make balls, roll it in bread crumbs and deep fry in oil.
The entire process is easy if you start from dry ingredients. First make bread crumbs in a dry blender, then powder the cashew mixture, using the same blender, grind the onion, then potatoes and finally mince the soya all done one by one separately and not together.
Serving suggestion
: Serve with buns along with tomato ketchup.