Ingredients
1. Flour (maida) - 1 cup
2. Oil - 3 - 4 tsp
3. Salt
4. Ajwain - a pinch (carom seeds)
Combine flour, oil, crushed ajwain, salt and mix well until it resembles bread crumbs. Add water and knead to a soft dough. Divide the dough into small portions. Take a portion, roll it to a thin base and cut into half. Take one half, fold like a cone, fill it with the masala, seal the open ends and deep fry in oil. Repeat the same with the other half and the rest of the dough portions.
Masala
Ingredients
1. Potato - 2
2.Onion -1
3. Green chilly -1
4. Coriander + cumin powder - 1tsp
6. Turmeric powder - 1/4 tsp
7. Coriander leaves - 2 tsp
8. Fennel - 1tsp
9. Ginger - 1/2 inch piece
10. Garlic - 2 cloves
11. Lemon juice - 1/2tsp
12. Roasted peanuts - 1tbsp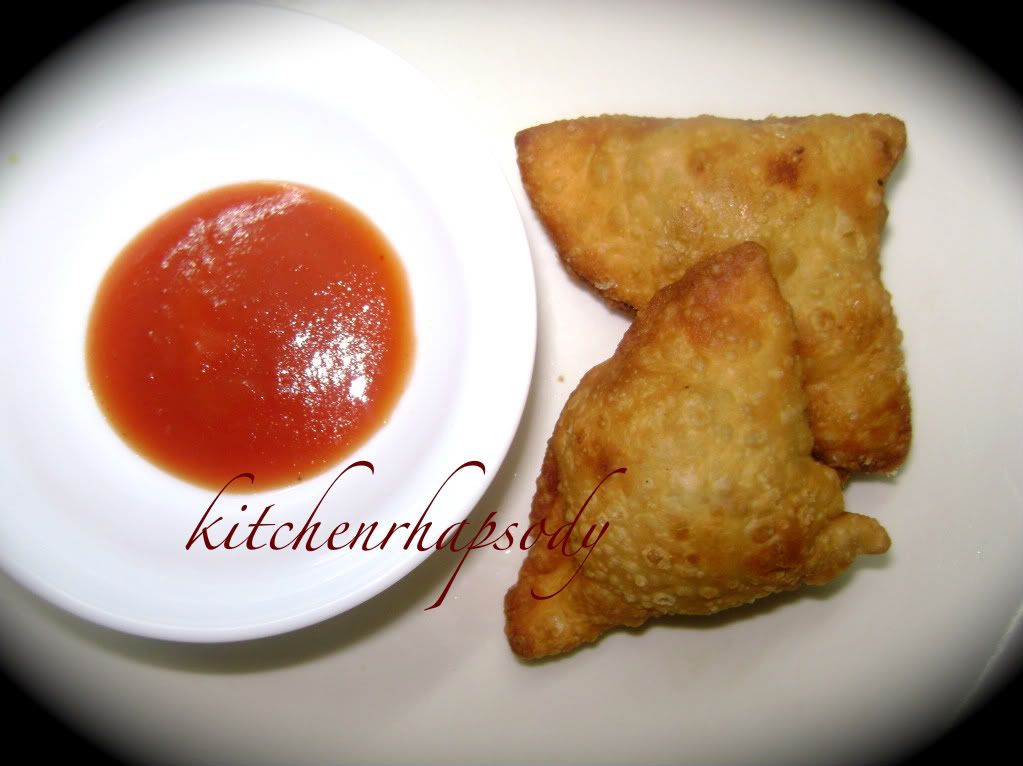 Method
1. Cook potatoes, mash well and keep it aside. Grind green chilly, ginger and garlic to a paste.
2. Heat 2tsps of oil in a pan, toss in fennel followed by thinly sliced onion, then chilly,ginger, garlic paste.
3.Add mashed potatoes, turmeric powder, roasted and powdered coriander +cumin. Stir in coriander leaves, salt, peanuts and before removing from heat add lime juice and mix well. Let it cool, divide into small portions and use it.