Chettinad is famous for its art, architecture and spacious houses, which looks like a palace. Chettinad's culinary delicacy has drawn many people to know more about their food and life style. Now it is so well recognised that one cannot see a restaurant (that provides South Indian food) without chettinad cuisine on their menu. The following chettinad chicken curry recipe is a perfect combination for parotta, roti, dosai, white rice and it is extremely delicious. I have used skinless, fatless chicken and very little oil.
Ingredients
1. Chicken - 600gms
2. Onion - 2 (large)
3. Tomato - 2 (large)
4. Chilly + coriander powder - 1tsp
5. Curry leaves - few
6. Cinnamon -1
7. Cloves - 2
8. Cardamom -2
9. Oil - 1 1/2tbsp
10. Turmeric powder - 1/4tsp
Masala
Roast the following in 1/4tsp of oil and grind to a paste.
1. Cinnamon, cloves, cardamom - each 2
2. Fennel - 1/4tsp
3. Cumin - 1/4tsp
4. Shallots - about 15 (small size)
5. Garlic - 2 cloves (big size)
6. Coriander seeds - 1tbsp
7. Red chilly - 4
8. Grated coconut - 1tbsp
9. Curry leaves - 3 leaves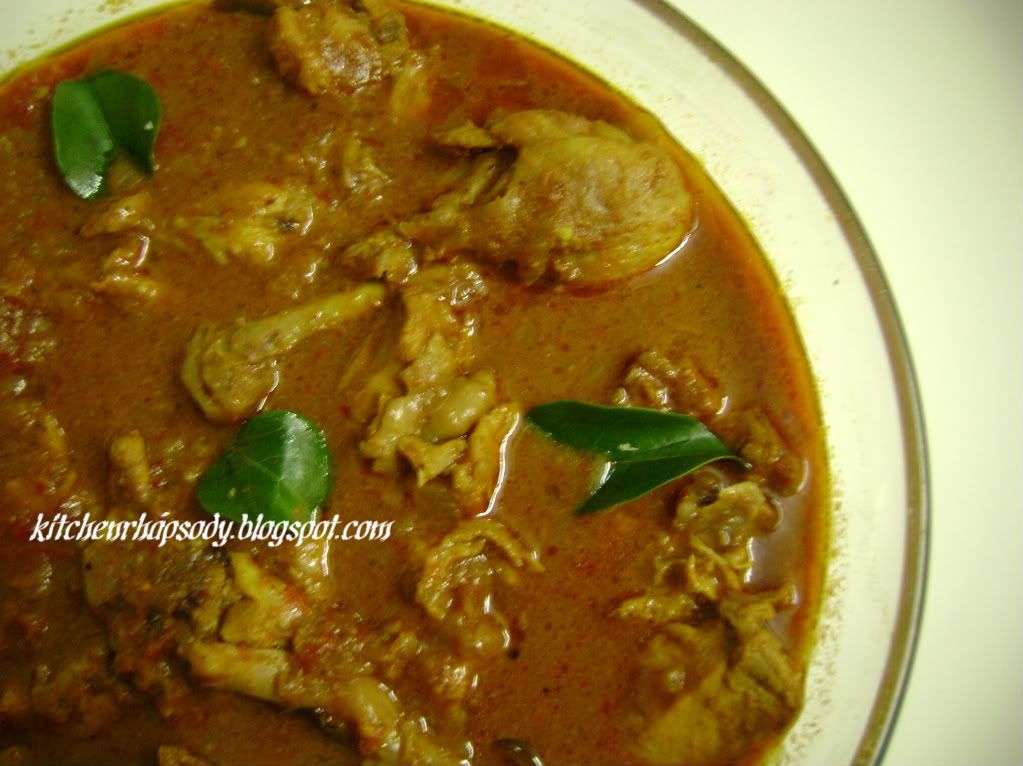 Method
1. Heat oil in a pressure cooker, add cinnamon, cloves, cardamom, curry leaves and when it crackles, add finely chopped onions and saute until it is cooked, add chopped tomatoes and stir well to cook.
2. Add the chicken, stir and add in the chilly+coriander powder, ground masala paste and turmeric powder. Add salt, mix well, close the pressure cooker, bring to full pressure, place the regulator and reduce the heat after a minute and cook for 9 minutes. When the pressure settles down open the cooker and let the curry boil for a few more minutes on low heat until the gravy is reduced to the required consistency. Garnish with coriander leaves and serve hot.
Adapted from a tv show