Vadai curry a popular food served with hot Idly, is usually made by deep frying the vadai. To avoid excess oil and long hours of standing we have stuck to steam cooking the vadais and using it in the curry, which, still does not alter the taste of the dish.
Ingredients
1. Bengal gram - 150gms
2. Onion - 1
3. Red chilly - 1
4. Coriander leaves - 1tbsp
5. Fennel - 1/2 tsp
6. Salt
Wash and soak bengal gram for an hour and grind to a paste along with the red chilly. Add finely chopped onion, coriander leaves, fennel, salt and mix well. Make balls and steam cook. When it is cool break the vadai into small pieces.
For the curry
1. Onion - 2
2. Tomatoes - 2
3. Ginger garlic paste - 1tsp
4. Chilly + coriander powder - 2tsp
5. Turmeric powder - 1/2tsp
6. Cardamom -2
7. Cloves - 2
8. Cinnamon - 2 (small pieces)
9. Fennel - 1/2tsp
10. Salt
11. Oil - 1tbsp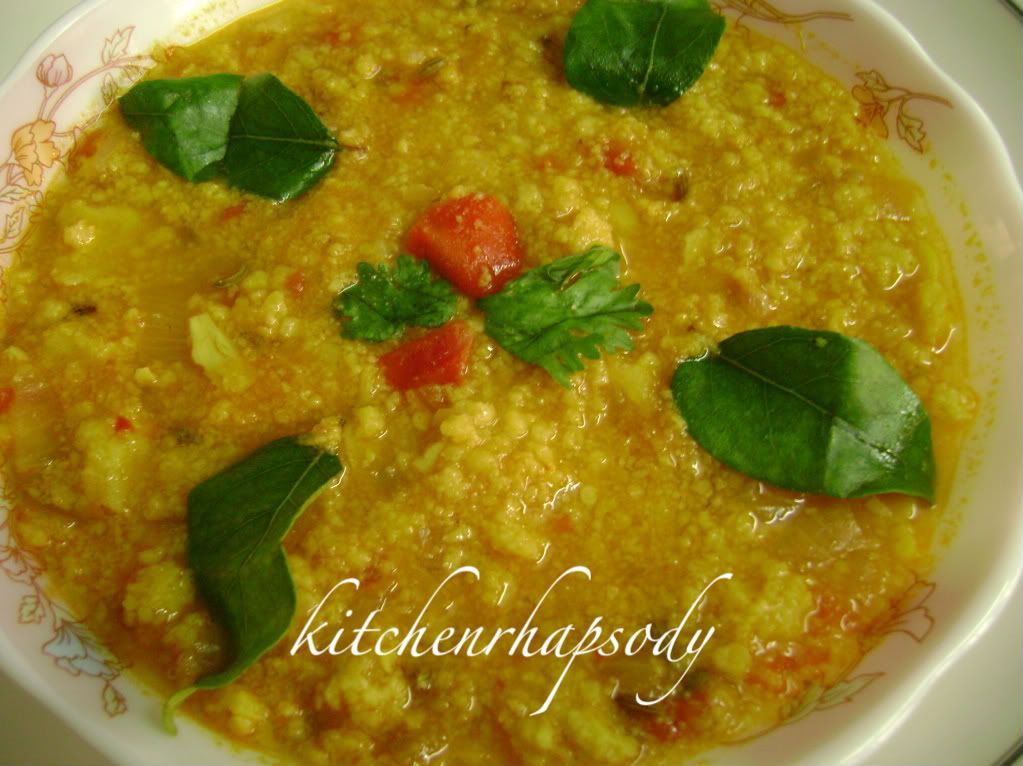 Method
1. Heat oil and add the whole spices, curry leaves and add sliced onions, saute and add chopped tomatoes and stir until it is cooked.
2. Add ginger garlic paste, stir and add chilly+coriander power, turmeric powder and salt.
3. Add some water and let it boil for a minute. Add the crumbled vadais and cook on low heat for few more minutes until everything is well incorporated. Add chopped coriander leaves and serve with Idly.