I had some left over vegetables and I was thinking of making cutlets, instead I decided to make these balls. My son, who usually frowns at the sight of vegetables, left no trace of the balls and I am sure it is a rare sight for a mother.
Ingredients
1. Potato - 2
2. Carrot - 1
3. Beet root -1
or
(simply take equal amount of the vegetables)
4. Ginger+ garlic+Green chilly(1)paste -1tsp
5. Garam masala powder - 1/2tsp
6. Bread crumbs - 6tbsp
7. Oil - 1 1/2tbsp
8. Onion - 1
9. Coriander leaves - 1tbsp
10. Bread crumbs for coating
For dressing
1. Onion - 1
2. Red chilly paste - 1tsp
3. Tomato sauce - 1tsp
4. Honey -1/2tsp
5. Sesame seeds - 2tsp
6. Spring onions - 2tsp (optional)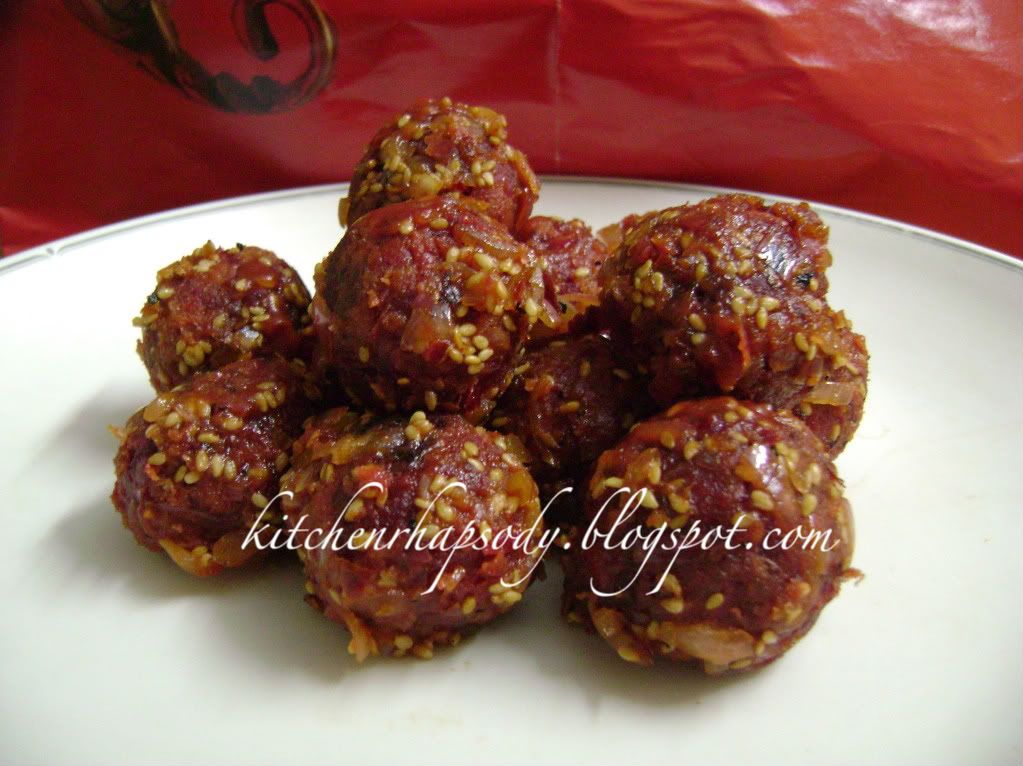 Method
1. Peel off the skin from the potatoes and grate. Grate carrot and beet root as well.
2. Heat oil in a pan, add finely chopped onion and saute until it is soft and pink.
3. Add the ground paste of ginger garlic and green chilly. Stir well and add the grated vegetables. Add garam masala powder and mix well.
4. Cover and cook on low heat without adding water.
5. When the vegetables are cooked, add salt and stir until there is no liquid and the mixture is dry.
6. Add chopped coriander leaves, mix well and leave it to cool.
7. Add the bread crumbs, mix well, divide into small portions and make balls.
8. Roll these balls one by one in bread crumbs, shake off excess and set aside.
8. Heat a tsp of oil and toss one batch of the veg balls until it is fried on all sides(on low heat). It will take a minute or two for each batch. Repeat the same for the rest of the veg balls. They taste good as it is, since I wanted to serve with rice, I made this sweet and spicy sauce dressing.
1. In a tsp of oil, saute finely chopped onion, add red chilly paste, tomato sauce and sprinkle a little water. When it begins to boil, add honey, when the sauce becomes thick, toss in the vegetable balls and mix well. Turn off the heat and sprinkle toasted sesame seeds, spring onions and serve hot.
( I could'nt get spring onions, that is why it is missing in the photograph. Would have been lovely to see the contrasting green with the red balls.)