Kids will love to have this in their Lunch box with a simple raitha, with pomegranate seeds or well seasoned sour cream dip.
Ingredients
1. Flour (maida) - 3cups
2. Sugar - 1tsp
3. Salt - 1tsp
4. Baking Powder - 1/2tsp
5. Milk - 100ml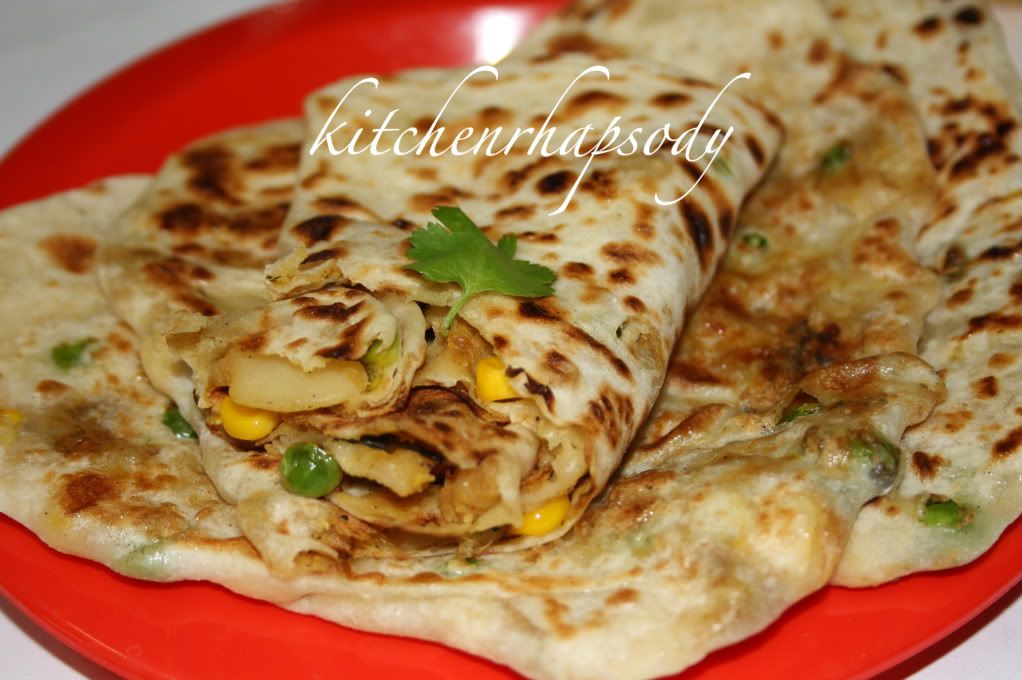 Combine starting from flour to milk and knead to a soft dough, adding water as required and let it rest until the stuffing is prepared.
For the stuffing
1. Onion - 1
2. Ginger+garlic+Green chilly (crushed) - 1tsp
3. Garam masala powder - 1/2tsp
4. Fresh green Peas - 50g
5. Sweet Corn - 50g
6. Potato - 100g
7. Turmeric powder - 1/4tsp
8. Chilllypowder - 1/4tsp
9. Coriander powder - 1/4tsp
10. Mint + coriander leaves - 1 1/2tbsp
11. Lemon juice - 1tsp
12. Oil - 1tbsp
13. Butter or ghee
Heat oil in a pan, add finely chopped onion, saute'. Add crushed ginger, garlic and chilly paste, stir and add peas and corn, stir and cook for a couple of minutes. Add cooked potato, turmeric powder, chilly powder, coriander powder, salt and mix well. Add finely chopped mint and coriander leaves, drizzle the lemon juice, add garam masala powder, mix well, remove from heat and let it cool.
Divide the dough into equal portions. Roll a portion into a parotta, with a slightly thick centre and thin edges. Place a portion of the masala or the stuffing, bring the thin edges of the parotta to the centre, so that the stuffing is covered completely, dust some flour and roll again to a parotta. Cook the prepared parotta on a hot tava, drizzling oil now and then. Repeat the same with the rest of the dough and stuffings. Serve these parotta with a dollop of butter or ghee.