Lentil burger, when I saw the recipe in a cook book, my curiosity was kindled, but wasn't satisfied with the taste, so made some adjustments to suit our palate, turned it into koftas and used it in a curry, just the way I wanted.
Ingredients
Red lentils 100 g
Potato 125g or 3 small ones
Bread slices 2
Cumin 1tsp
Garam masala powder 1tsp
Garlic 2cloves
Spring onions 2tbsp
Coriander leaves 1tbsp
Rice flour 2tbsp + 3tbsp
Egg 1/2
For the curry
Onions 2
Tomatoes 2
Ginger garlic paste 1tsp
Red chilly+coriander powder 2tsp
Garam masala powder 1/2tsp
Cumin powder 1/2tsp
Salt
Spring Onions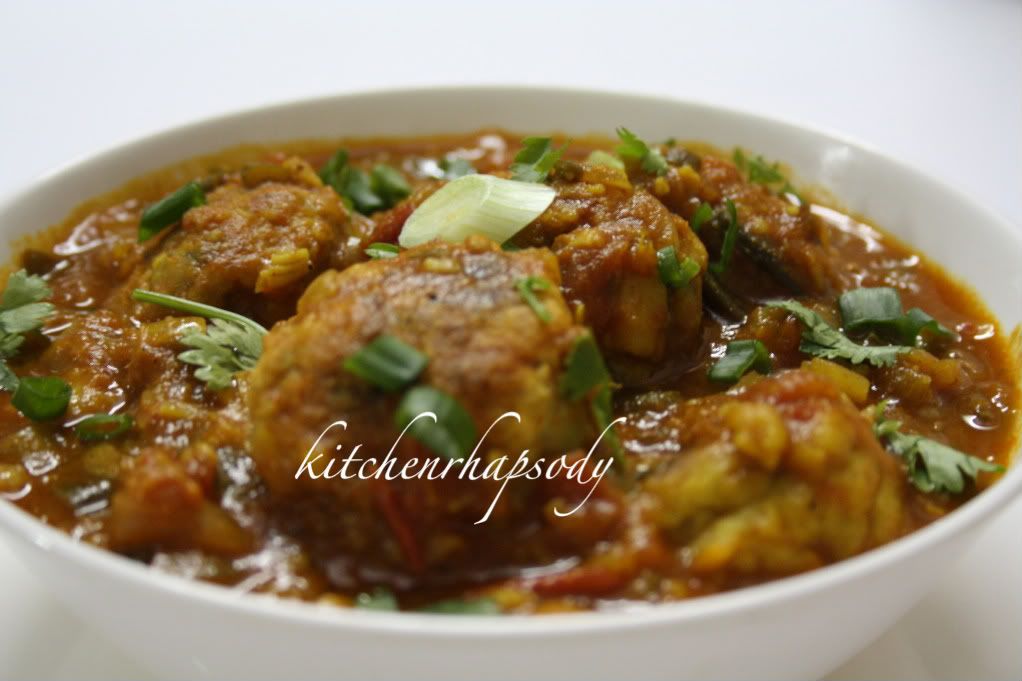 Method
Cook lentils and potatoes(skin peeled) in a pressure cooker.
Mash the potato and lentil, add lightly beaten egg, cumin powder, garam masala powder, minced garlic, chopped spring onions, chopped coriander leaves, salt, rice flour and mix.
Wet your hands lightly and make koftas or balls with the mixture.
Roll the balls in rice flour and fry in a sauce pan using 1 or 2tbsp of oil.
Curry
Heat oil in a pan, add sliced onions and saute until it is pink and cooked.
Add chopped tomatoes, saute until it is cooked and add ginger garlic paste, stir, add garam masala powder, chilly+coriander powder, salt , cumin powder, a cup of water and once it begins to boil, cook on low heat for few minutes until the curry is ready.
Add the koftas, garnish with chopped spring onions and serve immediately with roti.
Suggestion
The egg makes the mixture quite sticky, if the hands are slightly wet it is easy to make balls, my suggestion would be, just avoid egg, rice flour and include more bread to make koftas, can sprinkle some milk, if required to hold the mixture together.