Drumstick soup is one of the 'few' soups that I make, as I am not that much into soups. The thought of soup comes only when someone is sick with cold and cough. This time I just felt like making some soup even though no one was sick, except the need for a comfort food. Here, I have added chicken stock in the soup, but it is good even without it.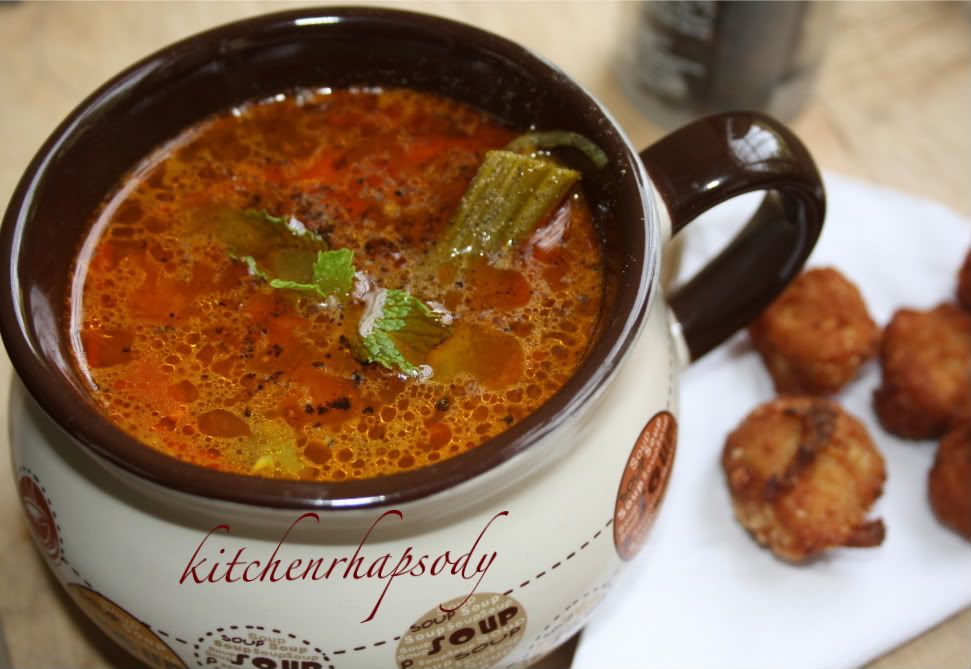 Ingredients
Drumstick 5 - 6 pieces
Onion 1tbsp finely chopped
Tomato 1tbsp finely chopped
Green chilly 1 chopped
Ginger 1/2 an inch crushed
Garlic 1 clove crushed
Turmeric powder 1/4tsp
Pepper powder 1/2tsp
Cumin powder 1/2 tsp
Oil 1tsp
Fennel 1/4tsp
Chicken stock 1/2 cup
Water 1/2 cup
Salt
Method
Heat oil, add the fennel, few curry leaves and as it begins to change colour, add the onion and saute until pink.
Add the tomato and stir.
Add ginger and garlic, stir.
Add the drumstick pieces, salt, turmeric powder, water, close and cook.
When it is almost cooked add the chicken stock, cumin powder, pepper powder and cook.
When done serve hot, with chopped coriander leaves and more freshly ground pepper if necessary.