Pizza Margherita is the simplest pizza, that doesn't require much of sweating in the kitchen to prepare. I have prepared the pizza with a thin base, which is crunchy and easy to chew. Making pizza at home is not a rocket science and it is totally fun when done with a little enthusiasm.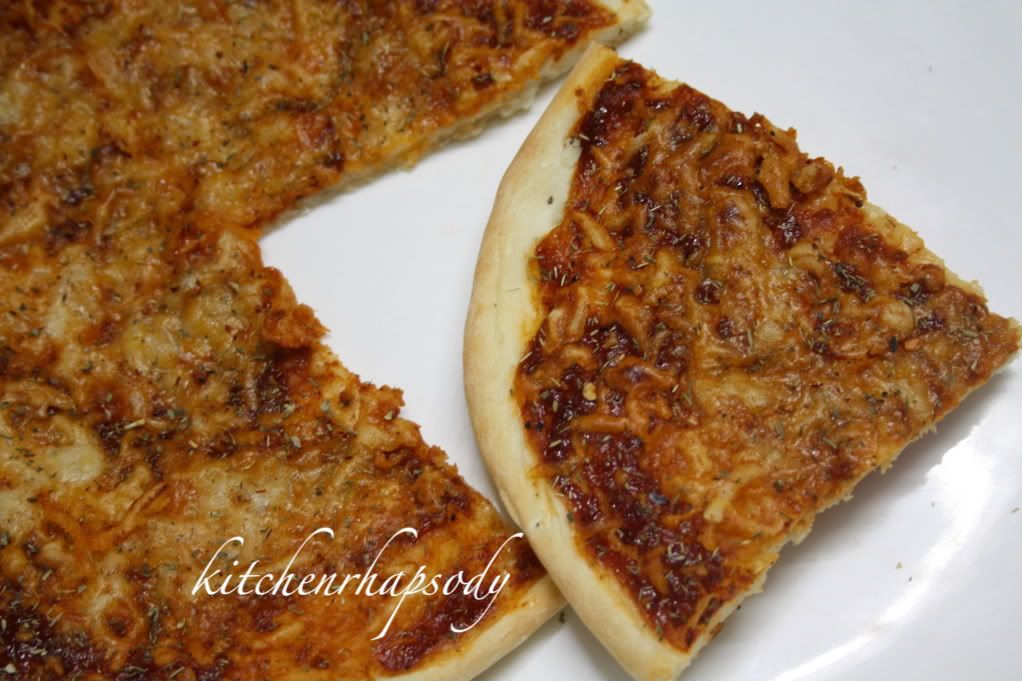 More sauce, less cheese
Ingredients
Flour 2 cups
Dry yeast 2 1/4 tsp (7g)
Lukewarm water 1cup
Sugar 1tsp
Salt 1tsp
Oil 1tbsp
Pizza sauce 150 gms
Mozzarella 150 - 200 gms
Spices Thyme, oregano, red chilly flakes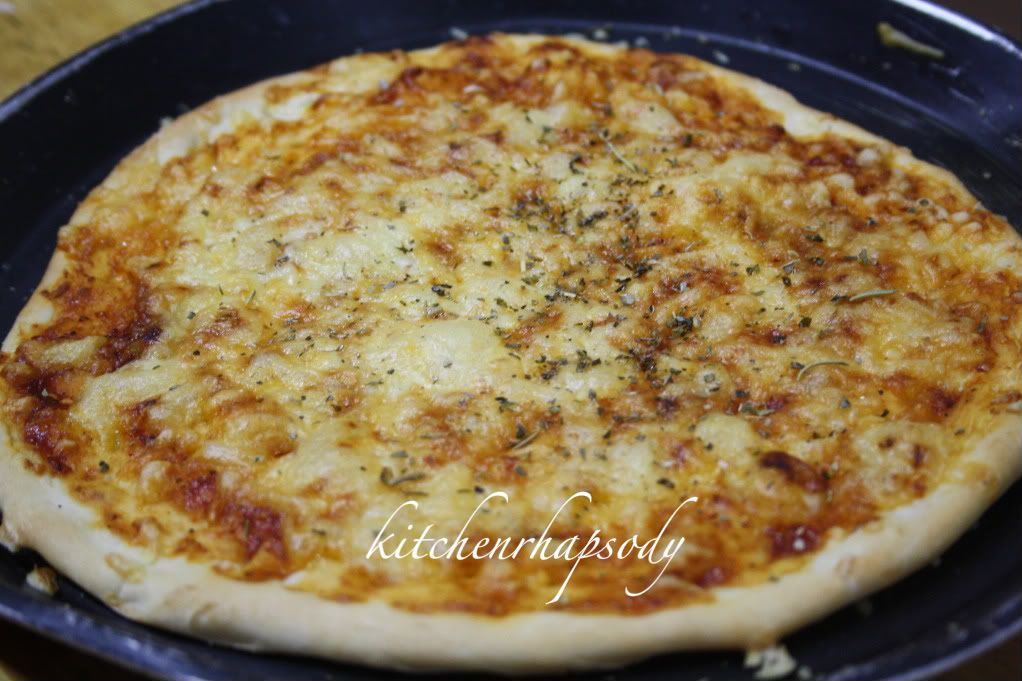 More cheese, less sauce
Method
Sprinkle yeast and the sugar, over warm water and keep it aside for about 5 to 10 minutes until the yeast foams up.
Add salt to the flour, add in the yeast dissolved water and oil.
Mix well and knead to a soft dough.
Brush a little oil on the dough, cover with a cling film and leave it to rise for about 30 minutes.
Knock the dough down, knead again for a minute.
Divide into three portions.
Spread the dough to a thin circle, pick the base with a fork, spread some pizza sauce, sprinkle grated cheese and bake in a preheated oven 220*C for about 15 minutes.
Remove from oven, sprinkle the spices and serve hot.
Repeat the same with the other two portions.
Note
:
Pizza sauce can be made at home by frying an onion and two cloves of garlic (both finely chopped) in a tbsp of olive oil, add a cup of tomato puree, salt, a tsp of sugar and let it boil, when it is almost reduced, add 2tbsp of tomato sauce, pepper to taste, oregano, basil and when everything boils down to a nice thick paste remove from heat and use.
What I have used here is a readymade pizza sauce.
When I am lazier than this, I just use tomato sauce, drizzle with garlic infused oil and fill it up with toppings and spices.
The given quantity makes about two medium sized pizzas and one small sized pizza.