A little more than a decade ago, the craze for chinese cuisine spread like virus among the Indians. The sizzling sound and the aroma of rice and noodles being tossed in a big, black, wok, became a constant feature in eateries on almost every busy street, mobile vans selling manchurians coated with a thick red sauce and fried chicken nuggets floating in sweet and sour liquids, like hot cakes, almost till midnight. Things have changed and now pizza and macaroni have replaced many indian menus, along with noodles. Cheese and Italian spices have become a part of the grocery list. Restaurants strike a winning accord with kids by providing mini sized pizzas in buffet and don't be surprised if you are served pasta for dinner in an Indian friends house. As I said, this is a decade to get familiarised with parmigiano, Rissoto, Lasagna, basil and off course, ciao.
Paneer has become a definite part of the indian cuisine and blending this with the italian pizza makes it an excellent indianized version of the italian delicacy, with a twist.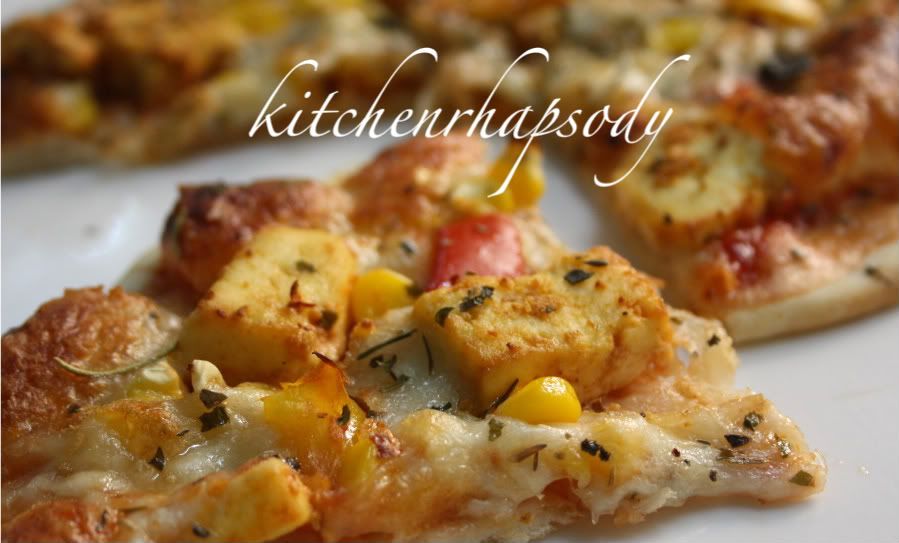 Ingredients
Pizza base same as given for
Pizza margarita
Yellow capsicum 1 large
Red capsicum 1 large
Sweet corn kernels 1 cup
Paneer 200g
Curd 2 tbsp
Chilly powder 2 tsp
Garam masala powder 1/2 tsp
Cumin powder 1/4 tsp
Tomato sauce 1/2 to 3/4 cup
Mozzarella 200g
Chilly flakes
Salt
Olive oil
Oil
Mixed herbs ( oregano, thyme, basil,)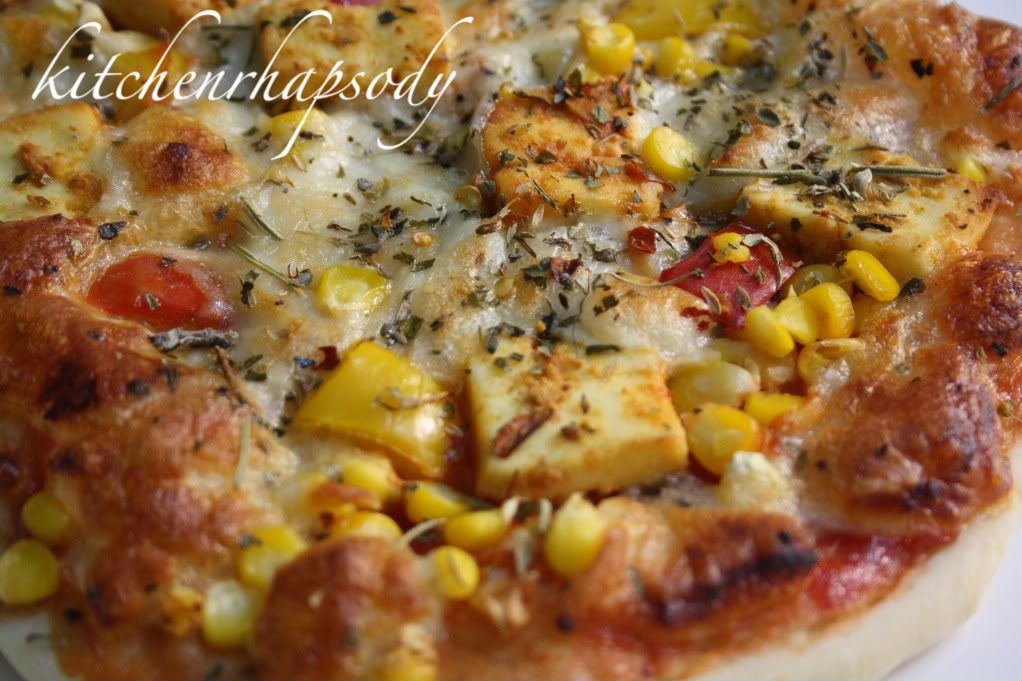 Cut capsicums into small pieces.
Steam cook two sweet corns and remove the kernels from the cob.
Cut paneer into small cubes.
Beat the curd well, add in chilly powder, garam masala powder, cumin powder, salt and mix well.
Add in the paneer cubes and toss well and let it marinate in the masala for about an hour or so.
Heat two tsps of oil in a sauce pan and fry the paneer only for a few minutes, just until the masala sticks to the paneer and need not fry till golden brown.
Spread the pizza dough to a slightly thick circle, prick with a fork throughout the surface, spread one or two tbsp of tomato sauce, arrange a few toasted paneer pieces, capsicum pieces, sprinkle some steam cooked corn and slices of mozzarella .
Sprinkle the spices, chilly flakes, each about half a tsp, drizzle some olive oil, or garlic infused oil if desired and bake in a preheated oven at 250*c for about 10 - 13 minutes.