With festivals galore, the sweet smell of caramelised jaggery, the sizzling sound of rice flour mixtures fried in different forms, the aroma of the fragrant ghee and the flavour of the cardamom from the glistening sweets, without doubt is going to be the 'Odour of October'.
It is the month of celebration and indulgence, which also means the ladies at home, will be a lot more busier than the rest of the year, cooking, shopping and praying. I anticipate this time, every year, as I love to see the shopping spree in the city, shops decked up in colourful lights, daily papers with additional colourful pages talking more about food and shopping, crowd which fail to finish the shopping even if it is almost midnight, the frenzied mood of the last minute shoppers, people scanning the numerous variety of sweets in sweetshops, it's such a delight to watch people in such jubilant mood, which stays on till january.
Well, time to eat, pray and love.
Mukkootu vadai or otherwise called Mupparuppu thattu vadai is slightly different from the regular ones and it is crisp and spicy. Three types of dals are used in this and if desired, mung dal alone can be used.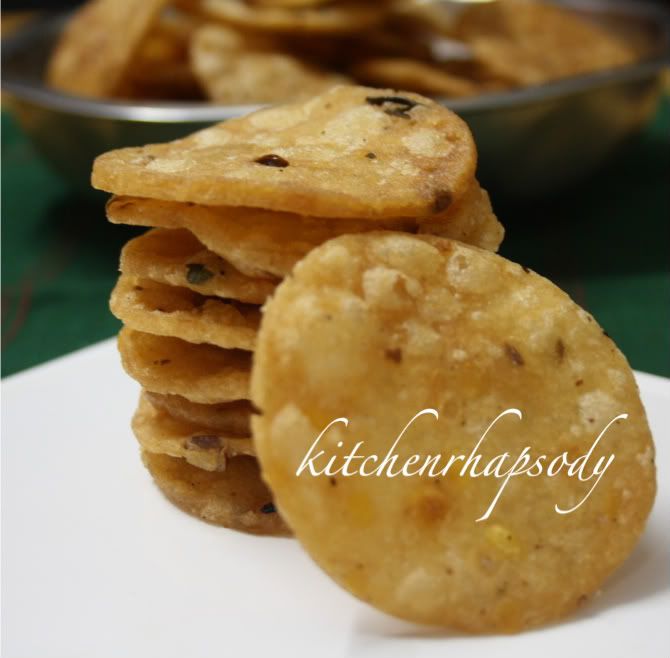 Ingredients
Rice flour 2 cups
Boiling water 4 cups
Chilly powder 2 tsp
Asafoetida 1/4 tsp
Cumin 1/2 tsp
Salt 1 tsp
Curry leaves few
Urad dal 1 tbsp
Mung dal 1 tbsp
Channa dal 1 tbsp
Method
Rinse and soak the three dals in water for about 45minutes, drain the water, spread it on a plate or cloth and let it dry for a few minutes.
To the rice flour, add chilly powder, asafoetida, cumin seeds, salt, curry leaves and whisk to combine.
Add the boiling water little by little, stirring continuously using a large spoon until everything is well mixed. Add the soaked dals and start working with the hand. Knead slightly until everything is mixed well.
Take a small portion of the dough, place it on a lightly oiled plastic sheet and with the greased fingers spread the dough to a thin circle. Prick the surface with a fork, using a cutter, cut out shapes and deep fry in medium hot oil.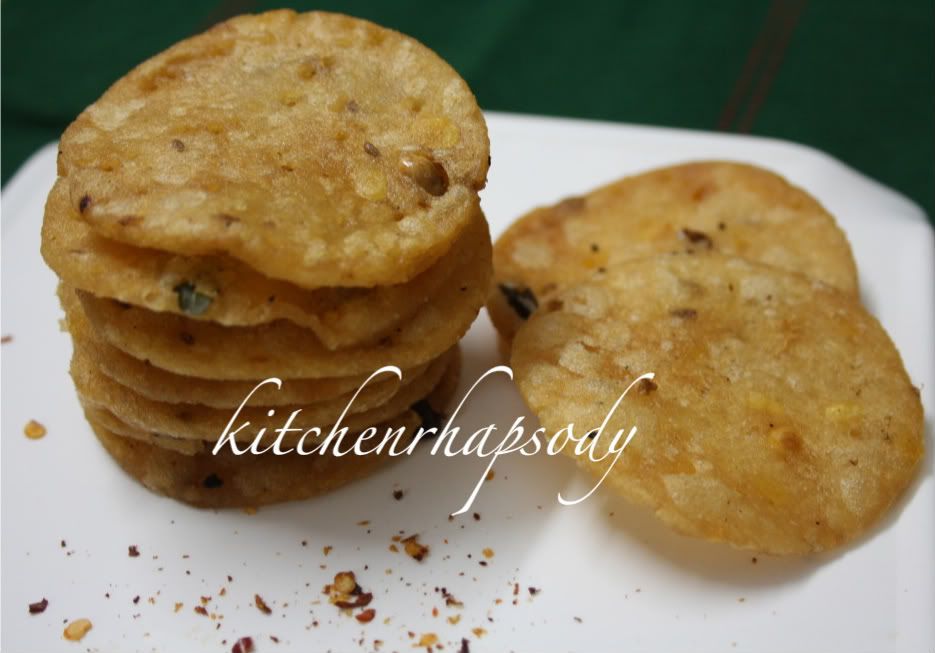 Note
:
Spice levels can be adjusted according to taste.
Since only rice flour is used it will appear a little greasy.
Rice flour is prepared by soaking the rice in water for 2 hours, drained and spread on a cloth to dry, powdered in a mixer or in a mill, the rice flour is then dry roasted, which can be stored for months.
To know when to stop roasting the rice flour, take a good pinch of flour and try to draw a line, if you are able to draw a smooth line without any break then it is done, otherwise keep roasting until the right consistency is reached.
Since three types of dals are used and named so, peanuts are not part of the recipe, since I had a few in my hand I used it, skip it if desired.