All that sound and smog has finally subsided along with the festive spirit as Diwali got over, but left us with a beautiful weather, that marks the beginning of winter, a season too perfect to sit back, relax and munch on all those festive goodies.
Sodhi is a vegetable curry that is made using coconut milk a popular curry in Thirunelveli. Sodhi holds a definite place in every wedding feast in nellai, which otherwise would be an incomplete meal. It is actually a cross between avail and poricha kuzhambu, again two prominent dishes of Nellai. It's a rich spicy and creamy curry that is served with rice, a traditional food that is as authentic as their halwa.
Ingredients
Onion 1 (small)
Drumstick 1
Potato 1
Brinjal 2
Ginger 1" piece
Green chilly 1
Mung dal 2 tbsp
Red chilly 5
Garlic cloves 2
Cumin 1/2 tsp
Turmeric powder a pinch
Lemon juice 1 tsp
Coconut milk extracted from one half of the shell.
Thick coconut milk from the first extraction and the thin milk from the second extraction.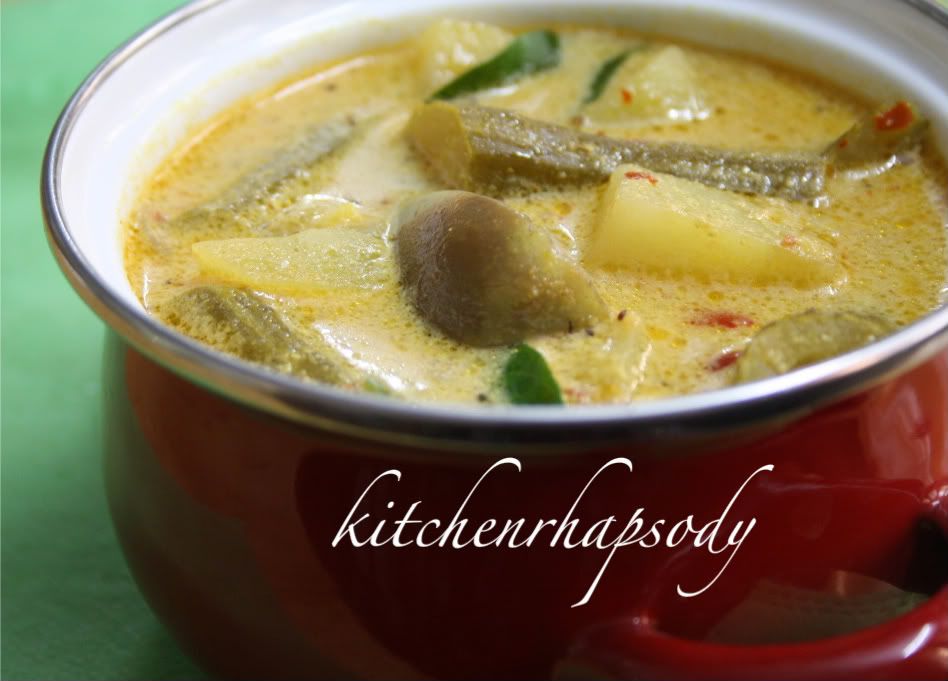 Method
Cook the mung dal in water and set aside.
Combine red chillies, garlic, cumin and grind.
Take the chopped vegetables in a cooking pot, add the thin coconut milk, sliced onion, julienned ginger, slit green chilly, turmeric powder, salt and cook.
As the vegetables are cooking, stir in the red chilly + garlic + cumin paste and cook.
When the vegetables are cooked, stir in the cooked mung dal and when it comes to a boil, add the thick coconut milk.
Heat a tsp of oil and add a tsp of mustard + urad dal, curry leaves and add to the curry.
Stir and cook on low heat for another five minutes, add in the lemon juice, remove from heat and serve with rice.
Note
: If using canned coconut milk, add just enough to make a good gravy consistency.