I never knew Onion Pakoda can be made at home, until I got married. I watched with eager one evening, when everyone were preparing to make pakoda, cutting and chopping a large number of onions and green chillies, which were mixed and kneaded in a wide bowl, for a large family of about a dozen members, under the careful instructions of my father in law. When not done right, he didn't hesitate to get his hands in and did the kneading himself till he was satisfied and without doubt, those pakodas were the best. He was the one who coined the phrase 'pepper sized tamarind' ( milagu alavu puli) to be added, when making his favourite coconut chutney, also mentioning the precise amount of other ingredients that goes into the chutney, which I don't remember 'but' for that nailing phrase. I still remember my first class on home made pakoda and the happy moments so vividly and yes, I still follow that 'pepper sized tamarind' every time I make coconut chutney.
Back home, when the weather was cold or if my mother was too lazy or sick, pakoda and rasam rice will be the menu, be it for lunch or dinner, we still loved it. Hot peppery rasam, onion pakoda, coconut thuvaiyal, with rice on a rainy day is an unbeatable combo for a satisfying meal. Pakoda is the perfect savoury that matches this wintry evening and make sure to have a cup of hot tea, you will definitely need that to drown that spicy pakoda, especially if you bite into a chilly. Do not make it in a hurry, enjoy making it like a therapy, in a relaxed mood, with the music on and if it's drizzling, just roll up your sleeves and feel the rain drops sprinkle in your warm hands, let the cold wind blow in your hair, blend in with the weather before you cook, food will never disappoint the creator.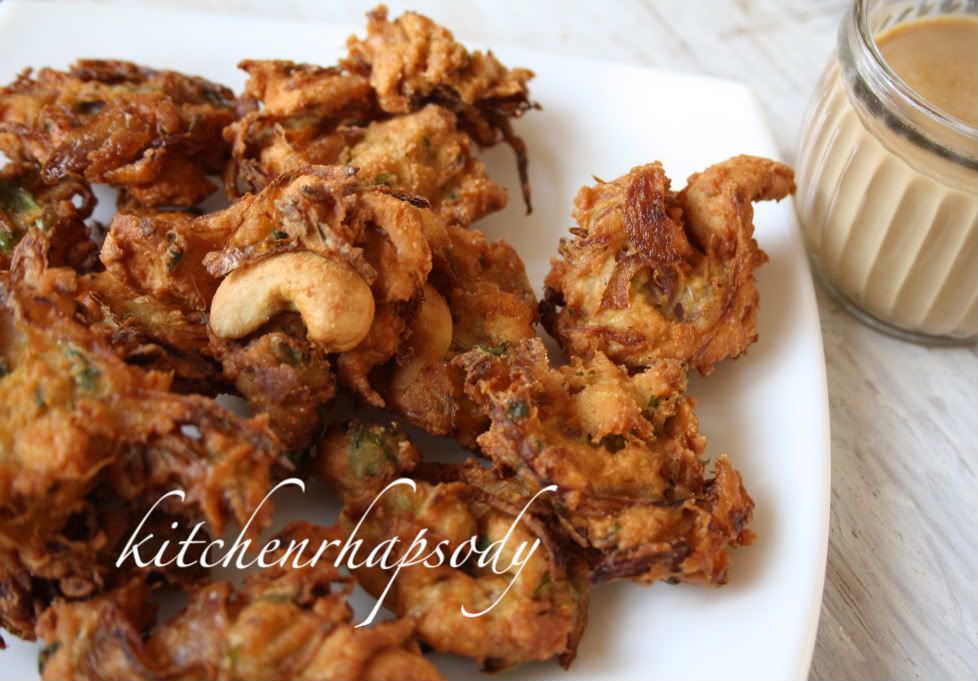 Onion Pakoda
Onion 2 medium size (sliced)
Bengal gram flour 1 cup
Rice flour 1/8 cup
Hot oil 1 1/2 tbsp
Green chillies 2 ( chopped)
Ginger 2 tsp (finely chopped)
Fennel 1/2 tsp
Curry leaves 10
Coriander leaves 2 tsp (finley chopped)
Cashew 25
Asafoetida powder a pinch
Salt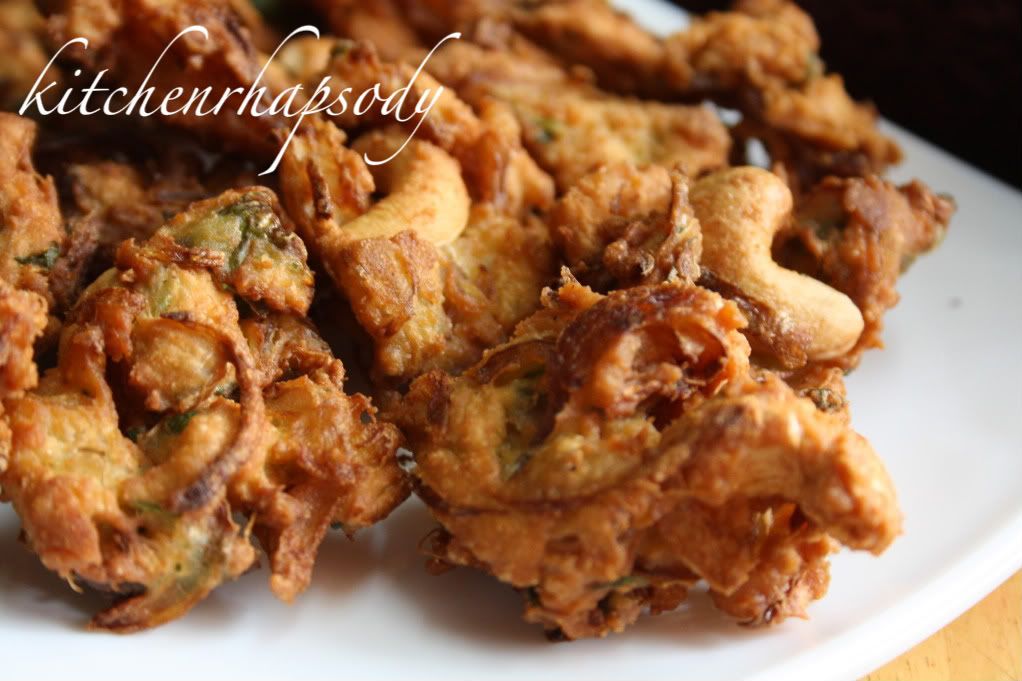 Method
Mix bengal gram flour and the rice flour, to this add the asafoetida powder, sliced onions, chopped green chillies, ginger, curry leaves, salt, fennel, coriander leaves and start kneading it using hand.
Do not add water at any stage,( my father in law was very particular about that) this will be a little frustrating but believe me it gives a wonderful result.
The water from the onions that is released while kneading is enough to bind everything together.
when it begins to come together, add the hot oil and knead again until it is sticky.
Add in the cashews.
Pinch a small amount of the mixture and drop in hot oil on medium heat and fry till golden brown.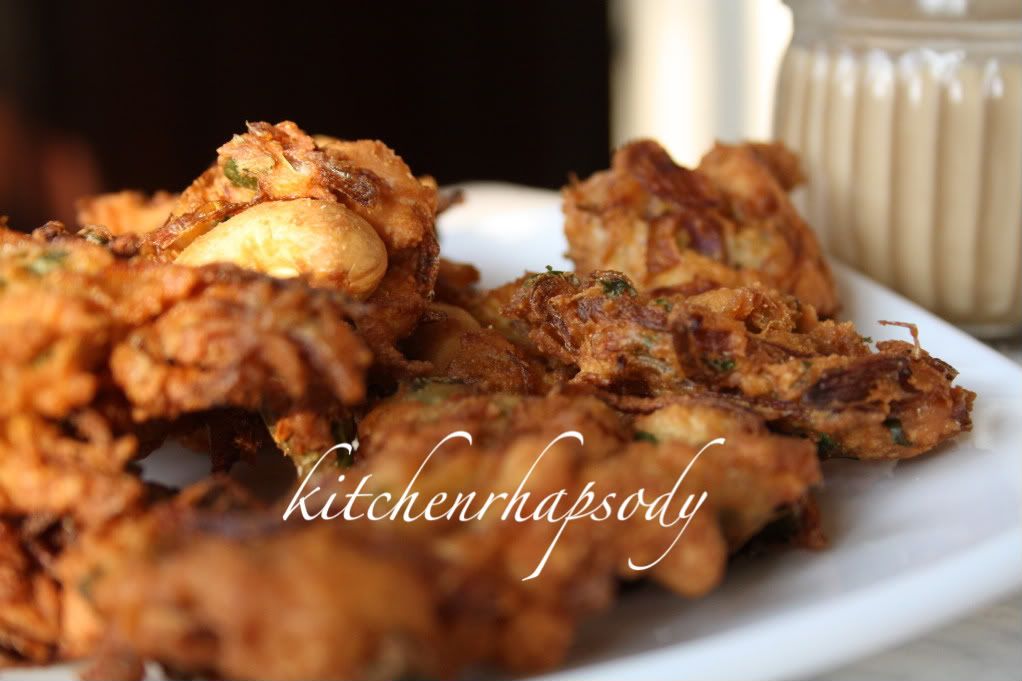 Note
:
Do not try to make a ball or press the mixture, this will result in a lumpy pakoda.
If the onions are not sticking to the batter, then knead again until it sticks. But, try not to overdo, as it will water down the batter and the pakoda will not be crispy.
Vegetable Pakoda
This can be called as a vegetable bajji or pakora as it is called in north india. The same batter can be modified to make our version of pakoda, but two different tastes. Both the versions are good when served hot.
Ingredients for Bajji
Bengal gram flour 100g
Rice flour 1tbsp
Flour (Maida) 1 tbsp
Carrot 100g
Beans 100g
Chilli powder 1 tsp
Turmeric powder a small pinch
Curryleaves few
Coriander leaves 1 tbsp (chopped finely)
Salt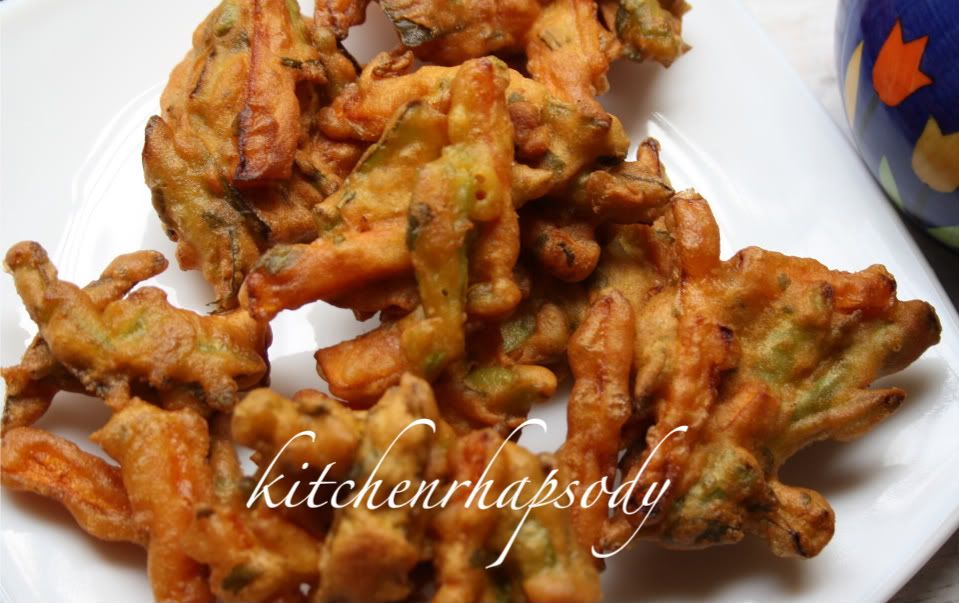 Method
Whisk all the dry ingredients, add in the remaining ingredients, add the vegetables cut in long strips of about 2 inches in length and add enough water to make thick batter to make the bajji.
Take a small amount of the vegetables mixed with the batter, drop it in hot oil and fry on medium heat until it gets a golden colour.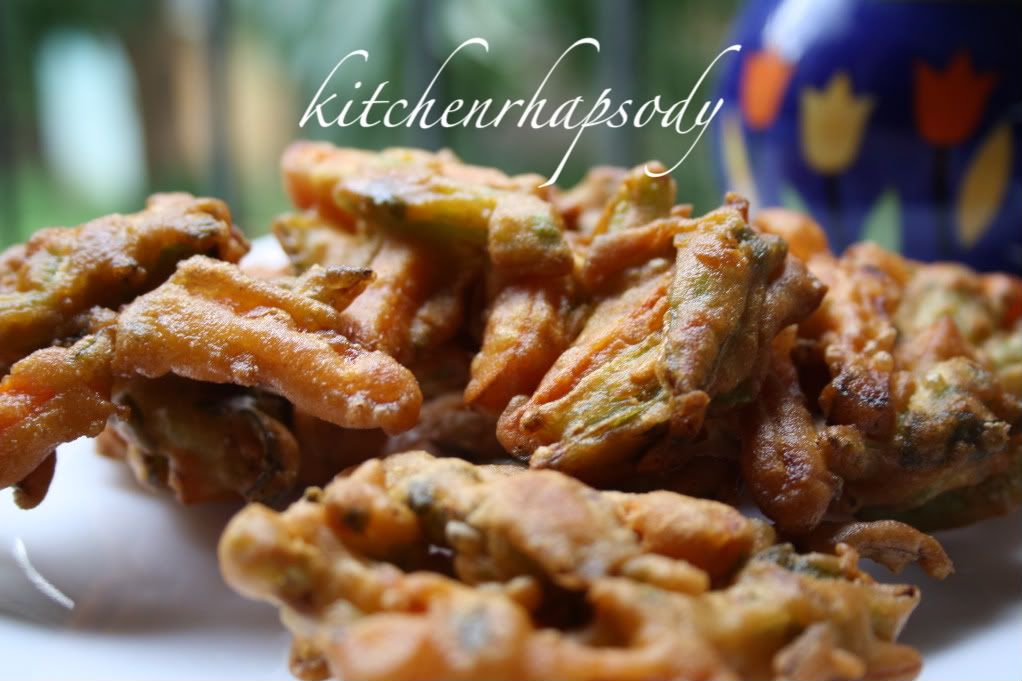 Vegetable Pakoda
Ingredients
The same as listed for vegetable bajji, plus add 1/4 cup of peanuts and 1 1/2 tbsp of hot oil to the mixture and add little water (it takes about 1-2 tbsp of water ) to mix the ingredients. The vegetables should be chopped into small pieces for pakoda.
It should be a sticky mixture and not a batter. Pinch a small amount and fry in hot oil on medium heat.