Is it just me or everyone goes through this stage in blogging, I don't know. Lately, I have this feeling to quit blogging. I love food and to savour every delicious food on earth, but my expanding waistline warns me to pause for a while, my kitchen beckons me to cook the long list of food yet to be tried and I am still thinking. For now, I'll keep going, till I make up my mind.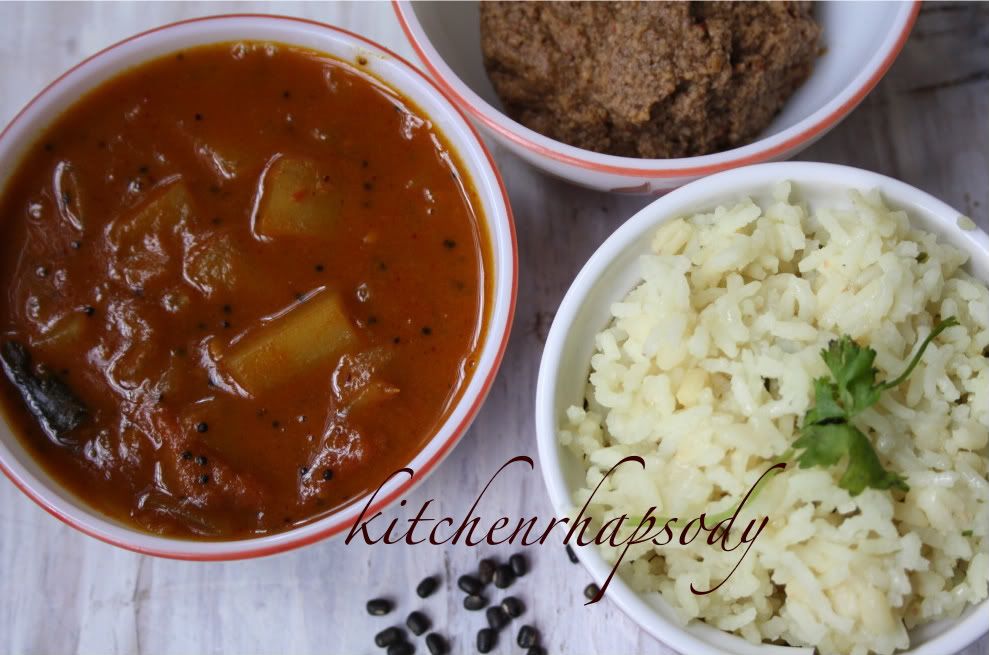 Last week we drove down south and stopped by at Namakkal, to visit the famous Anchaneyar temple, abode of 18 feet tall Lord Hanuman, with no roof above his head. There's a fort atop a huge rock, right opposite the temple. Deciding to climb the rock to explore, had our lunch there to gear up for the climb, but it only slackened my better half's movement, who decided to stay back, half way up the hill. Well, he didn't miss anything, as there was nothing but ruins, but up there, it gives a beautiful view of Namakkal City, also popular for its eggs and poultry, which is exported and that explains the origin of the eggs in my pantry. I did not miss to observe the bakeries, that were present every two kilometres or so and even stopped at one of the bakery, only to be surprised to see a variety of delicious looking baked foods. I grew up in Salem, a gastronomical paradise, still making it a point to eat in our favourite spots, every time we visit. It's all about food down south, food speaks a volume there and I don't think I have ever had such an experience in any of the restaurants in Chennai.
Ulundu saadham and ellu thuvaiyal, again a southern speciality food, was always reminisced by my mother in law, every time we talked about this food, of how it would taste so good with sesame chutney. She is a native of Madurai district, but I guess she must have learned from her in laws, who are from Palayankottai and I from her. I have given two versions, a spicy version I found in a book and a sweet version by my MIL.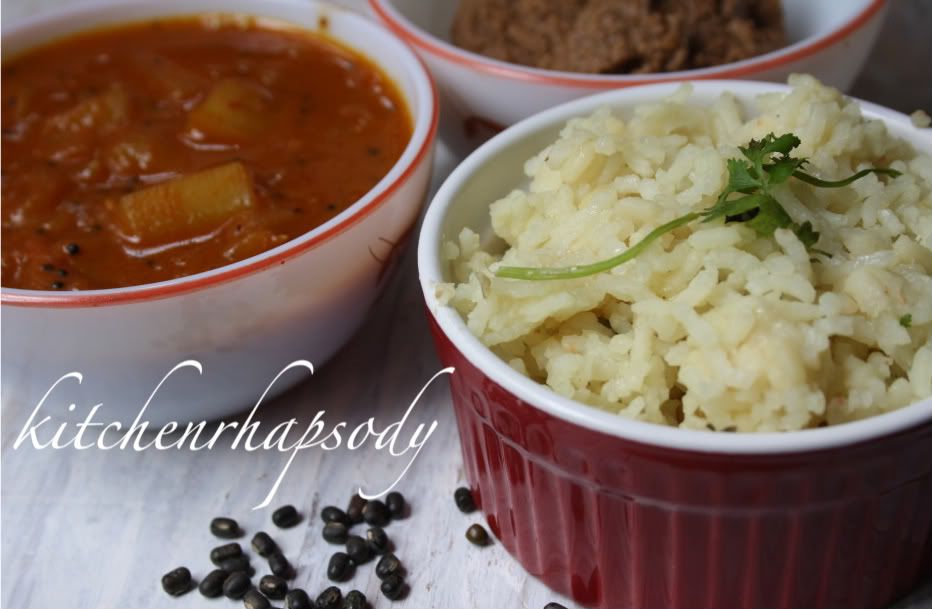 Ulundu Saadham I
Ingredients
Rice 1 cup
Urad dal 1/3 cup
Green chillies 3
Fenugreek 1/2 tsp
Garlic cloves 2
Gingely oil 2 tsp
Water 4 cups
Salt 1 1/4 tsp
Gingely oil as needed
Coriander leaves 1 tbsp
Method
Rinse the rice and urad dal in water.
Combine everything in a pressure cooker, including the rice and the urad dal and pressure cook for 15 minutes.
Add chopped coriander leaves and stir well.
Before serving drizzle a generous amount of gingely oil on the rice for a nice flavour.
Serve with Sesame chutney/thuvaiyal.
Note
:
The fenugreek seeds in the rice will give a slight bitter taste, but it has health benefits.
I have served with a potato spicy curry and Black sesame seed thuvaiyal.
Ulundu saadham II
Ingredients
Rice 1/2 cup
Urad dal with skin 1/8 cup
Coconut milk 1 1/2 - 2 cups
Salt 1/2 tsp
Water 2 1/2 cups
Jaggery to taste (optional)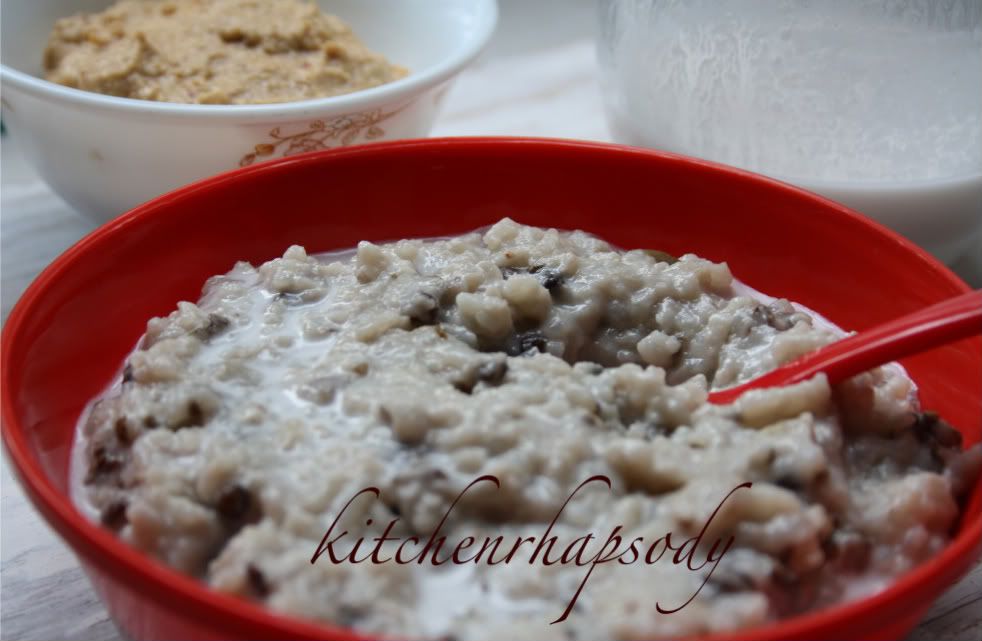 Method
Rinse the rice and urad dal, add in to a pressure cooker.
Add water and salt.
Pressure cook for about 13 minutes.
When cool, stir and mash well, add coconut milk and serve.
Add grated jaggery to taste.
Note
:
I have made it like a porridge (kanji), but according to my MIL, the rice and urad dal are cooked with salt and grated coconut is stirred in, without mashing it and served like rice.
The other method is, use coconut milk instead of water,( or a mixture of both) while cooking rice and dal, that way it will taste more sweet, with a rich coconut flavour.
It tastes good even without jaggery, but it is more delicious with a light sprinkling of jaggery.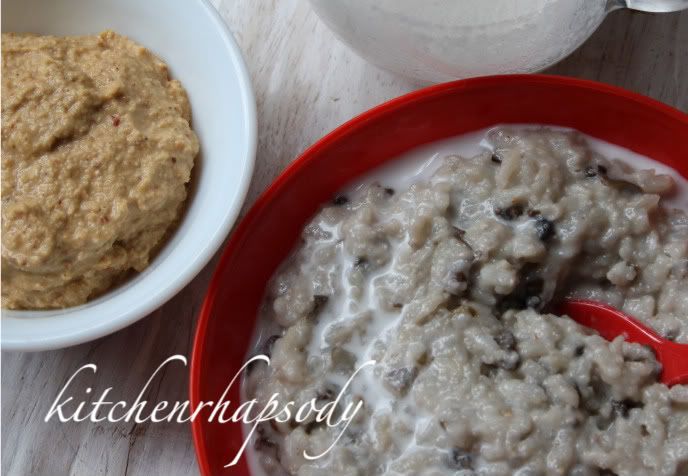 Ellu Thuvaiyal/ Sesame chutney
White sesame seeds 2tbsp
Urad dal 1tbsp
Red chilly 1
Garlic clove 1 ( small)
Tamarind pepper size ball
Salt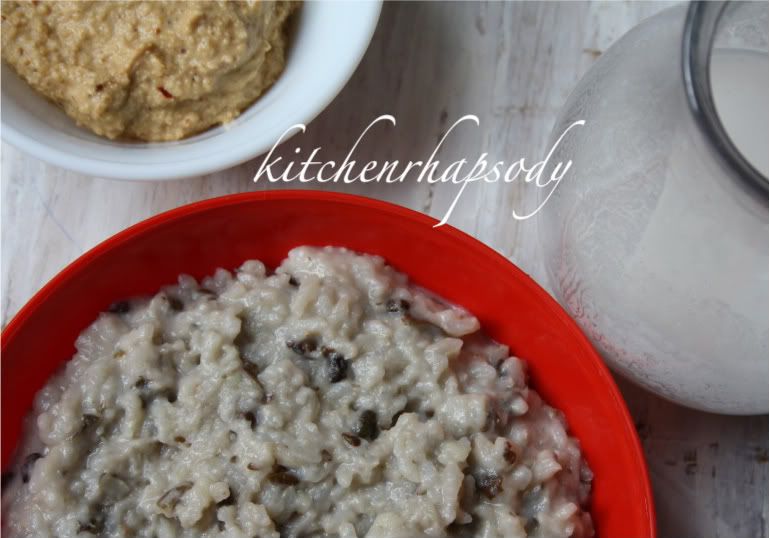 Dry roast urad dal, red chilly and the garlic until the dal changes to light golden colour.
Dry roast the sesame seeds separately until it begins to change colour.
Combine the roasted urad dal, red chilly, garlic, sesame seeds, salt, tamarind and grind to a thick paste with little water.
Note
:
For a spicier chutney use two red chillies and a slightly bigger piece of tamarind.
The other method to make ellu thuvaiyal is to blend roasted sesame, red chilly, salt and tamarind to a paste, without using urad dal.
Namakkal Anchaneyar
The Fort
From the top