Feeding small kids is not an easy task and I have had my hard times, when I used to constantly run behind my son to make him finish his food when he was a small child. But, when he had his first taste of stew with idlies, he actually sat down to eat more than he usually did, much to the surprise of a happy mother. Now, things are different, with his favourite chicken stew and appam, I have to be constantly vigilant to prevent him from over eating! It is a curry with simple ingredients, yet a spicy and aromatic stew that will surely make your sunday breakfast special and one that will make you want for more.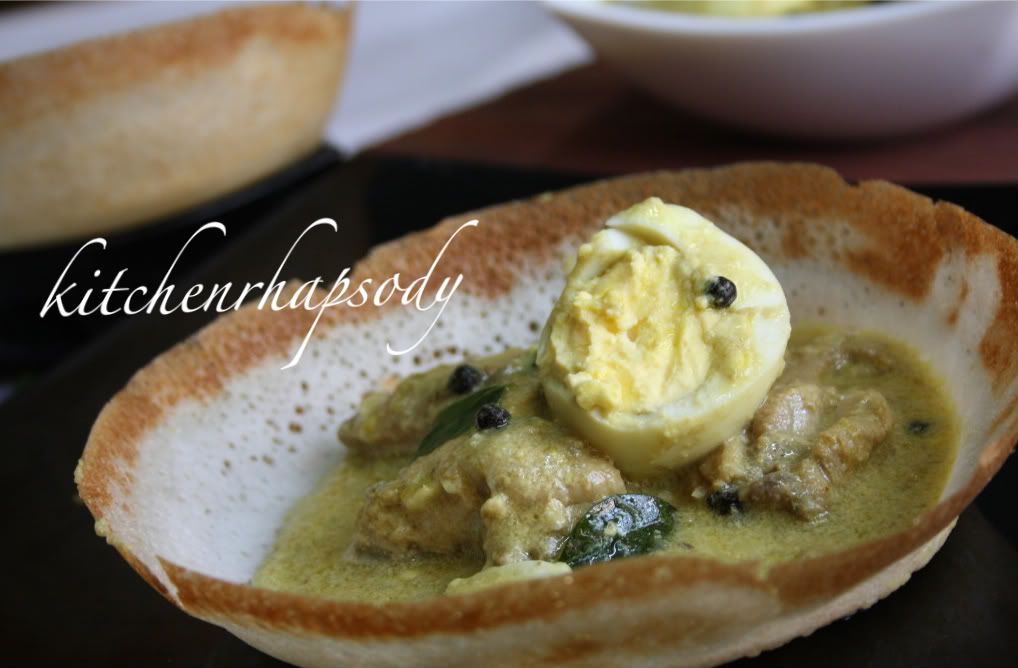 Ingredients Chicken Stew
Chicken 1/2 kg
Onion 2
Ginger 2"inches or 1 1/2 tbsp, Julienned
Green chillies 4 (slit)
Turmeric powder 1/4 tsp
Chilly + Coriander powder 1/2 tsp
Salt 1 tsp
Cocnut milk 3/4 cup ( I st extraction)
Coconut milk 1 cup ( II nd extraction)
Cornflour 2 tsp
Cinnamon, cloves, cardamom 3 each
Boiled eggs 3 (optional)
Oil 1 tbsp
Pepper 1/2 tsp
Curry leaves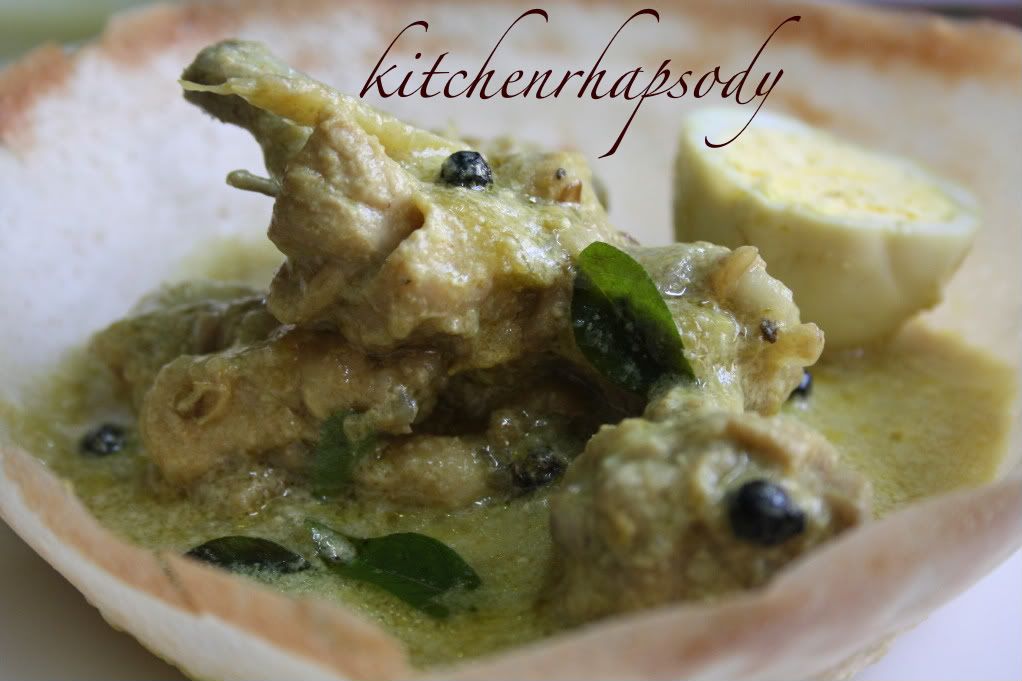 Method
Mix cornflour in the Ist extracted coconut milk and keep it aside.
Heat oil in a pan, add cinnamon, cardamom, cloves, pepper, curry leaves and when it begins to change colour, add sliced onions, ginger, green chillies and sauté, just until the onion is transparent and soft.
Add the turmeric powder and give it a stir.
Add the chicken pieces, chilly+ coriander powder, salt and mix well.
Add the II nd extracted coconut milk, close the pan and cook on low heat.
When the chicken is cooked, add the I st extracted thick coconut milk mixed with cornflour to the stew and stir.
Cook on low heat for a few more minutes, until it thickens to the desired consistency.
Remove from heat, throw in a few more curry leaves and serve the chicken stew with appam, Idly or dosai.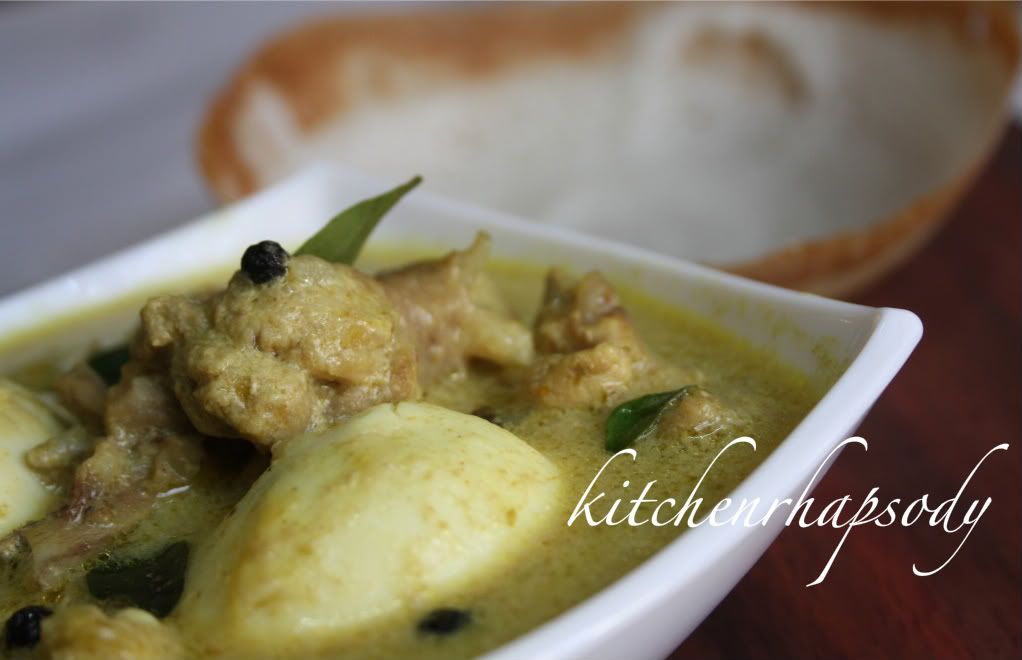 Since, I have already given the recipe for making Appam using yeast, here goes the recipe for -
Appam without yeast
Raw rice 1 1/2 cup
Urad dal 1 tbsp
Cooked rice 1 cup
Fenugreek 1/2 tsp
Sugar and coconut milk to taste if desired
Method
Rinse raw rice, urad dal, fenugreek and soak them together for 2 hours.
Grind rice, urad dal, fenugreek to a paste, add the cooked rice and grind again to a smooth paste.
Add salt and leave it to ferment for 10 hours.
Use the batter to make appam in a appa kadai.
I did not add sugar or coconut milk to the batter, since I was going to serve with stew which again is rich in coconut milk, so if desired add coconut milk, either while grinding the rice or just before making appam, in that case make the batter thick to dilute it with coconut milk. Adding coconut milk to the batter is a matter of taste and it does not alter the texture of the appam.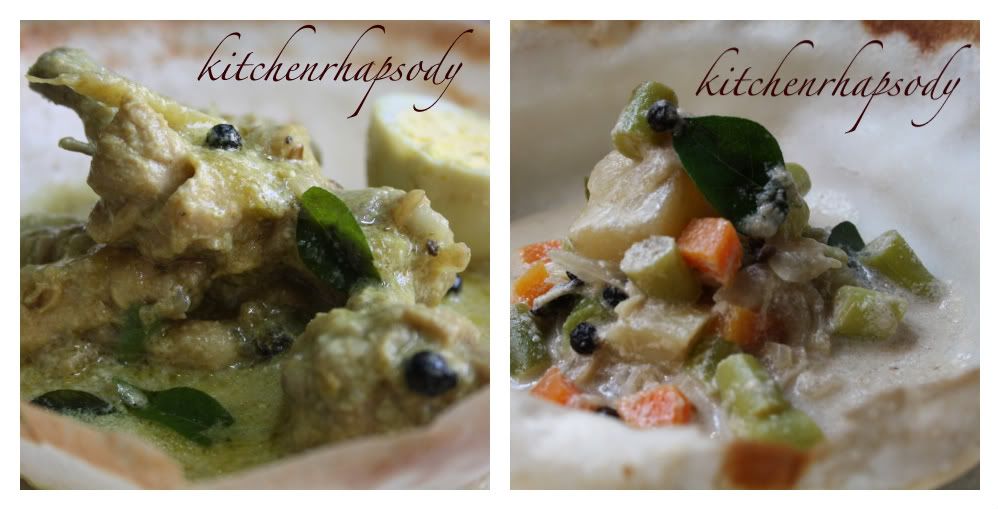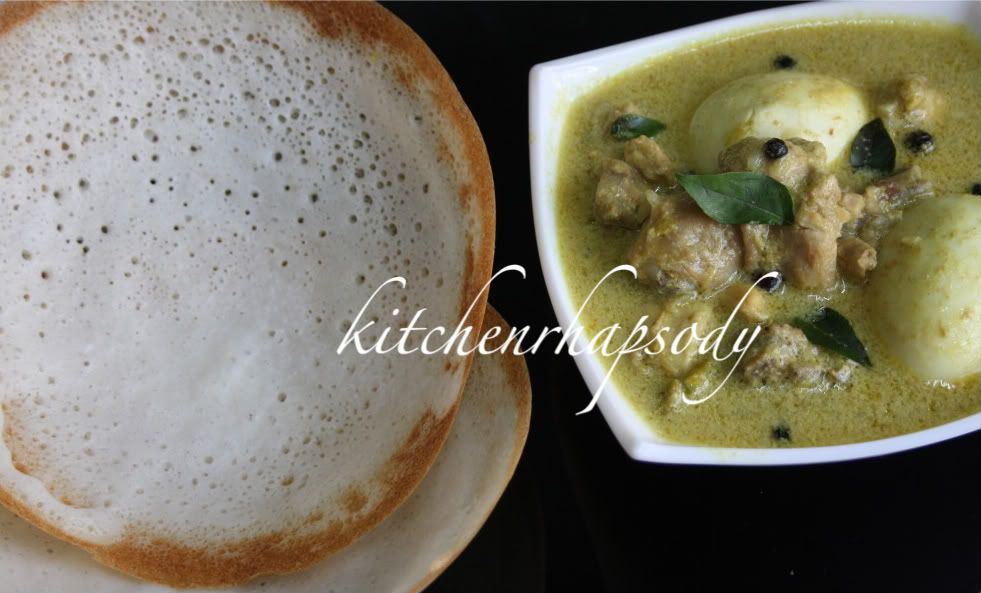 Ingredients Vegetable Stew
Onion 2
Green chillies 4
Ginger 1 tbsp (Julienned)
Potato 200 gms
Carrot + beans 250 gms
Coconut milk
Ist extraction 1/2 cup
IInd extraction 1 cup
Cornflour 2 tsp
Pepper 1/2 tsp
Cinnamon,Clove, cardamom - 3 each
Curry leaves
Method
Same as chicken stew, use vegetables instead of chicken.
The stew can also be prepared with eggs alone. For making egg stew follow the chicken stew recipe.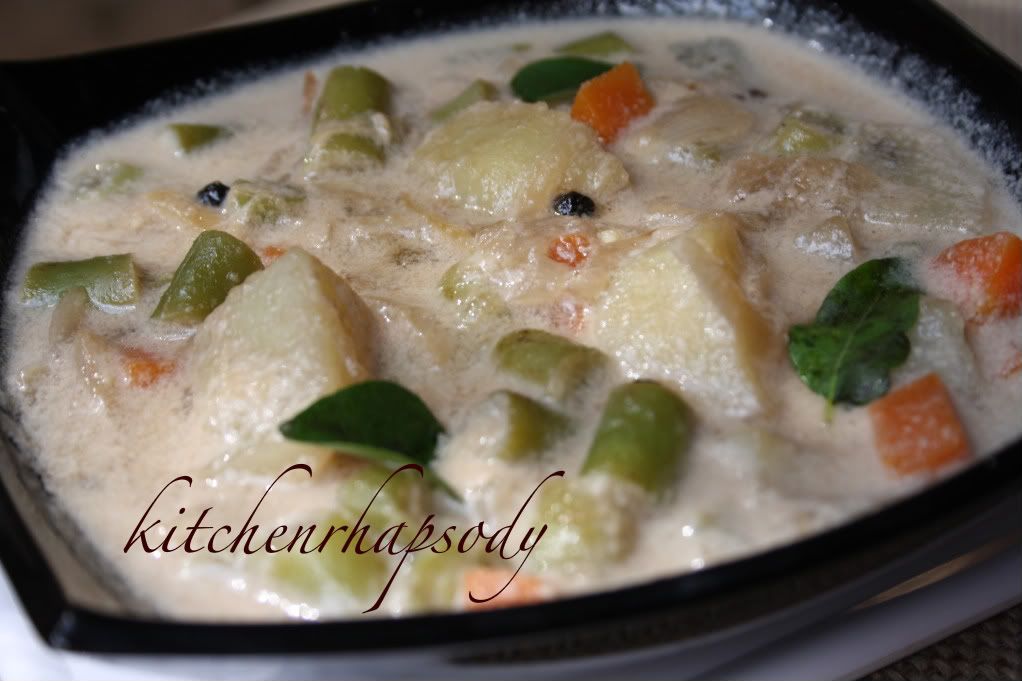 Note
:
In my previous post, I had mentioned I used horlicks cereal mix, but that was a mistake, I used Britannia multigrain powder and I have corrected it in the post - this information is for those who have subscribed by Email.